COVID-19 forces SAT/ACT test cancellations
Due to COVID-19, many SAT and ACT exams have been cancelled for future dates, affecting students' college application process.
    Universities require seniors to present their grade point average (GPA), SAT/ACT scores, extracurriculars and personal statement essays. However, with the circumstances this year, many of the universities are making the scores optional or are removing them from the college application altogether. 
      In September, a judge barred the nine University of California schools from accepting SAT/ACT scores for the undergraduate admissions process. Some campuses permitted students who wanted to take the exams to submit them as part of their applications. Alameda County Superior Court Judge Brad Seligman ruled that the policy could unfairly hurt disadvantaged applicants who couldn't access the tests during the pandemic.
     Before Seligman's ruling, UC had been moving away from using ACT/SAT scores in the admissions process. In May, the system passed UC President Janet Napatolino's proposal to eliminate the test scores for the 2021 and 2022 classes.
     Although the UC's are not allowed to consider students' ACT/SAT score for admissions and scholarship acceptance, the standardized scores can still potentially be used for the UC Entry Level Writing Requirement which allows students to skip general educational requirements with more opportunities to take higher level classes. 
    Other schools, however, are still accepting these tests, leaving some students still wanting to take the exams as it can give them an opportunity to individually stand out in the application. Students who do not submit their scores could potentially be at a disadvantage when competing against students who submitted a score.  If a student has a low GPA, a higher SAT/ACT score can significantly increase their chances of getting admitted to a university. 
     "If I do well on the SAT then I am submitting my score, but otherwise I don't want colleges to see my lower scores," senior Grace Harvill said. 
     Harvill has dedicated much of her free time to study for the SAT exam during the beginning of quarantine and summer. She first scheduled a test date for Aug. 29 and Oct. 3 but with the unexpected measures of COVID-19, testing centers cancelled the testing dates. 
     "It's very frustrating for the exams to be cancelled, and I just wasted so much time [preparing]," Harvill said. 
     With the increase in coronavirus cases, testing centers across California were forced to shut down. California set tight restrictions on maintaining social distancing and wearing masks, impacting the testing centers' decisions to cancel the test dates. 
     "I think it was responsible that the [testing centers] closed down because of COVID, but I feel it's unfair how other states [had] the advantage of taking the SAT and we didn't," Harvill said. 
     SAT subject tests were cancelled as well. Junior Alyssa Shou had planned on taking the chemistry subject test in August but within a couple of weeks was notified that it had been canceled. Shou took Advanced Placement (AP) Chemistry her sophomore year and had intentions of taking the subject test as soon as possible in order to retain past information. 
     "I feel like I'm forgetting chemistry everyday and I just want to get [the test] over with," Shou said. 
     Recently, The College Board has been releasing new test dates for spring 2021 in hopes that juniors will have plenty of opportunities to take the SAT/ACT and their subject tests. With the uncertainties of the pandemic, College Board's confirmed November and December testing dates may still be subject to cancellation. It is important to note that testing centers will prioritize the proctors' and students' safety amidst the spread of the virus. 
     "From my perspective, there are accommodations that the College Board can take by possibly giving the SAT test online because that's what they did for AP tests," Shou said.
    On Oct. 27, Monte Vista is hosting an SAT exam for only San Ramon Valley Unified School District (SRVUSD) senior students, designed to give them a chance to take the exam before submitting college applications. The exam will be held on a school day, which seniors will get an excused absence for. The SRVUSD recently announced that an ACT exam will be available on December 12 for seniors as well.
     "I'm very happy that we have a chance to take the SAT exam at school," Harvill said.  "It gives us another opportunity to get those final scores in before we have to submit."
Leave a Comment
About the Contributor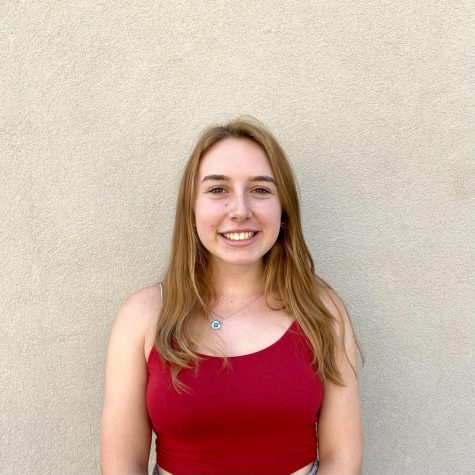 Angelina Izmaylova, CC Spin Editor


Angelina Izmaylova is a senior who is the CC Spin Editor and Breaking News Editor for The Stampede....