Monte Vista recognized through Special Olympics efforts
The announcers called play-by-play shots. Students made baskets near and far. The court squeaked with excitement and teamwork. But, how did this differ from a typical basketball game? Some were in wheelchairs. Others were just learning how to have a conversation. And yet, they all had a passion that inspired those cheering them on in the stands.
     Monte Vista's Special Olympics club hosted a basketball event for students with disabilities on Friday, Jan. 24. As a result of the school's ongoing work, Monte Vista became a Special Olympics Champion School for the 2019-2020 school year. This indicates that Monte Vista systematically promotes social inclusion by bringing young people with and without intellectual disabilities together through Special Olympics Unified Sports®, inclusive youth leadership and school engagement.
     The event began with an opening ceremony where Monte Vista Choir's Beauty Shop sang the national anthem and one of the participating athletes recited the national anthem. Afterward, lively activities began with community volunteers and teachers cheering on the students.
     "There are so many kids learning and loving the activities that it brings so much joy to the community volunteers," said junior Chloe Brause, vice president of Monte Vista's Special Olympics club. "Their smiles remind us what we are in for as helpers."
    Volunteers organized a skills section in the small gym and four basketball games in the large gym for seven participating schools from Walnut Creek, Mount Diablo and San Ramon Valley Unified School Districts.
     Any participant or supporter did not have to pay any fee to attend as all Special Olympics activities are free. Sherri Roberti, Contra Costa County's Special Olympics schools coordinator, has worked with the organization for 10 years and provides the equipment.
     This event gave students with special needs the opportunity to enhance skills they would not be able to practice in the classroom. Games unified general and special education students and the skills section welcomed every athlete.
     "Kids are able to interact with peers, participate in socialization, learn about physical exercise and meet communication goals," Roberti said. 
     Student volunteers included Monte Vista leadership students in addition to club members. They worked hands-on with the special needs students refereeing games, scorekeeping, hosting water stations, registering students, distributing ribbons, teaching skills and participating as unified players. 
     "The most impactful part is seeing all the general education kids collaborating with special needs kids," Roberti said. "I love watching their relationships grow as they help students with disabilities integrate into general ed activities."
     Brause and club officers prepared for this event since the beginning of the school year. In Monte Vista's twelfth year organizing the basketball tournament, the volunteers continued to show their extensive dedication.
     "The hospitality at Monte Vista inclines me to come back and work with its volunteers each year," Roberti said. "Every student who ran a booth or worked with the kids was very mature and took care of everyone which is something special that we don't get everywhere."
     Monte Vista's central location to participating schools, its parking availability and two relatively large gyms make the school an ideal place to hold the event. Roberti emphasizes Monte Vista's desire to host and bring light to the students.
     "The school always comes to us with open arms and [Monte Vista club adviser] Stacy Brix is very organized with this event," Roberti said. "With fewer special education classes at Monte Vista, it is a great place to bring exposure to a group that is seen less often on campus."
     Brause felt motivated to continue her involvement at a larger scale in high school after valuable time on the Special Olympics club at Los Cerros Middle School.
     "With years of experience, I have made lasting friendships and know that I would like to go into a profession that works with special needs kids," she said.
     Teachers and aides believe in the great potential of their students. Paraprofessional educator Jessica Ennis has worked alongside students with disabilities for six years and her enjoyment has prolonged her time in the field.
     "It's simply a blessing to help somebody who can't do it on their own," Ennis said. "I am incredibly lucky to see the strength and progress of these kids through an event like this one."
     The club is now organizing a spring dance that will continue fostering inclusivity as members are committed to making every student feel welcome.
     "I hope that any special needs student is provided with opportunities to flourish in any desire they have and equal treatment because they have a disability that is not any fault of their own," Roberti said. "Inside the word 'disability' is 'ability,' and you would not believe the strong hearts and amazing abilities these kids have."
Leave a Comment
About the Contributor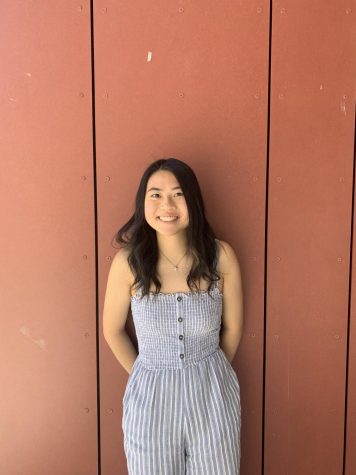 Claire Chu, Editor-in-Chief
Claire Chu is a senior in her fourth year of journalism as editor-in-chief for The Stampede. Although...