A four-legged college future
     For some high school students, the after school sport of choice trades sneakers for boots. At Monte Vista, Senior Lauren Langbaum has been riding for 13 years and recently committed to UC Davis to ride on their NCAA division equestrian program. 
     Langbaum rides at Brown Ranch, a boarding facility and stable. 
     "I ride at a boarding facility, so there's a lot of other types of riders and horses." Langbaum said. "I'm kind of the odd one out because I actually compete and do something different than most of the horse owners at the ranch I board at."
    Lauren started riding young, and her passion for the sport grew ever since. 
     "I started riding when I was 4 when my sister and I had a peak interest in farm animals." Langbaum said. "I tried other sports like soccer and gymnastics but horseback riding just stuck."
     Langbaum trains daily, and spends hours working hard and riding constantly. Her practices work on improving certain techniques and improving her skills. For Langbaum, practices can last around 30 minutes to 3 hours. She begins with warming up her horse, then working on a few key things that she thinks both she and her horse can benefit from. Once she is successful, and feels that she made progress, the practice is over.
      "I ride 7 days a week, riding multiple horses since a lot of people have allowed me to ride their horses to improve my skills," Langbaum said.
  Langbaum's hard work and dedication have paid off greatly, and she has won multiple awards and qualified for several finals. Some of her awards include winning 2018 NRCHA Derby youth champion, 2019 Reno SBF top 5 in youth limited and non pro limited, 2018 and 2019 NRCHA World Show qualifier, 2016-2017 AQHA world show qualifier, and being a multiple time class winner in CCHA.
     "I've qualified for multiple finals between 2016-2020 but I haven't been able to go until this year," Langbaum said. "I'll be going to a world championship in Fort Worth, Texas in February."
     But despite her awards, college teams require absolute dedication, and Langbaum had to cross several barriers to be accepted for UCD. Colleges look for people who are able to show they have mastered beyond their specific discipline, and can ride multiple horses and still perform under different circumstances then they are used to. 
     "Like any sport, being on a college team requires your utmost attention to your sport," Langbaum said. "Colleges look for people that will suit their needs and will be a successful team member. I had to show more than I had before in order to prove myself a strong candidate for UC Davis." 
     Horseback riding is hard, and requires balance, strength, and precision to compete at the level Langbaum rides at when any change in body language will affect your and your horse's performance and behavior. 
     "Riding is a lot of work in so many ways," Langbaum said. "You have to control and make a 1200 pound animal perform these tasks and the only form of communication is your body. It really makes you think and be aware of so many minute details in order to be successful."
     Langbaum's passion for horseback riding is clear, and she is excited for what the future holds at UC Davis. Commiting to a college team is a milestone for anyone, and Langbaum's hard work has paid off. 
      "Being on a college team is the next step up for me," Langbaum said. "It's very different to be part of a team because horseback is usually an individual sport, but I'm excited to see how it turns out."
Leave a Comment
About the Contributor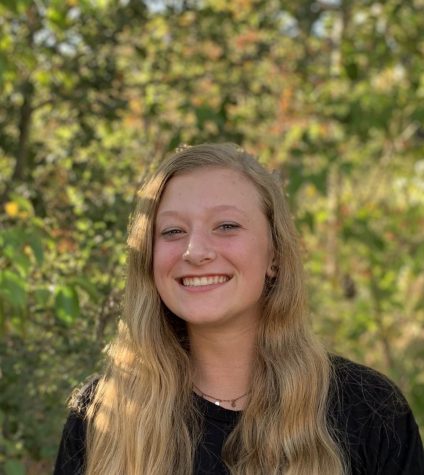 Elisabeth Delpouys, Feature Editor
Elisabeth Delpouys is a junior at Monte Vista high school, as in her second year of Journalism. Elisabeth...