'Yes on Open Space'
     Large green signs stating, "Yes On Open Space" in white bolded letters are being seen throughout Danville. However, what or who is this new campaign slogan for?
    The owners of Magee Ranch, Jed and Tom Magee, are hoping to get their new development plans (Measure Y) accepted and passed. The hope for this land is to be developed into real estate on 60 acres. They also plan to create more trails and rest areas for people to hike and enjoy. 
           "The preservation is a new idea to the people but my family has been planning and considering it for 9 years now," Tom Magee said. "The actual reservation has been passed unanimously twice by the county."
     Along with trails and real estate development, parts of the ranch will also be used to make driving and biking safer for all. 
     As of now Diablo Road and Blackhawk Road, both two-lane roads, for the most part, have a minuscule amount of space for not only the driver but for bicyclists who have to share the lane. There have been multiple incidents in which they have been struck by cars, along with a hit-and-run in 2017.  Many local cyclists groups and clubs are backing Measure Y due to the possibility of increased safety.
     According to a map on the 'Yes on Y, Yes on Open Space' Facebook page, the measure is going to give land and add onto the existing pedestrian and bicycle path to include the area of Diablo Road that aligns with the Diablo Country Club neighborhood to Mt. Diablo Scenic Blvd.
     While many agree with the hopes of the Magee family there are still those who are not in support. They have worries that with new homes being developed it will worsen traffic. 
     One of those people who is not a supporter of Measure Y is MV sophomore, Tess Olmsted.
     "I don't support the Yes on Open Space because it is going to develop more houses which will bring more cars and traffic," Olmsted said. "It is already an unsafe road with lots of traffic and this will just bring more problems." 
      The land proposed for development in Measure Y has been in the Magee family for 70 years, so this was no easy decision for the family.
      "It will be hard parting with the land I have known and grown-up on my whole life, especially since I had free reign all on this land," Magee says. "But the land is going to be sold and developed either way and this perseverance is the best way and still allows cattle to graze the land and more."
         A vote on Measure Y will take place with the next county ballet. As of now, it seems as though the Yes on Open space will be passed. There is currently a court day set up for Feb.
Leave a Comment
About the Contributor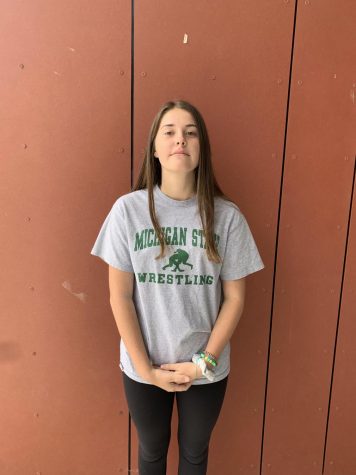 Chloe Van Puffelen, Staff Writer
Chloe Van Puffelen is a sophomore at Monte Vista and in her first year with The Stampede. She is excited...