Veteran player returns to San Jose Sharks
     "Mr. Shark" is donning teal once again. 
     San Jose's general manager Doug Wilson recently announced that hockey player Patrick Marleau will be returning for his 20th season with the Sharks on a one-year, 700k deal. Marleau spent 19 of his 21 years in the NHL playing for San Jose, leaving in 2017 on a two-year deal to the Toronto Maple Leafs, and returning this season for his 22nd.
     As the leader in games, points, and goals in Sharks' history, there are many emotions behind "Mr. Shark's" return to his hometown team.
     "Obviously, the emotions just went everywhere, and just thinking about putting that jersey back on just gets me emotional," Marleau told NBC Sports California's Jamie Baker. "I just couldn't be happier."
     With the Sharks currently at 4-10-1, San Jose fans are extremely excited for Marleau's much-needed return.
     "I think it's cool," said hockey player and senior Humza Ghaznavi. "It's good for the team— adding someone like him with his speed and skill. It's also good for him because he's lived in San Jose for a majority of his life and I know he likes it here."
     Over the last 22 years, Marleau and his career have created lasting memories for fans around the Bay Area, such as hockey player and senior Jeremiah Van Puffelen.
     "I'm really happy he's back," Van Puffelen said. "I grew up watching him, and he was one of the first players I ever went to watch. I've met him before and he's super nice, he even signed a jersey for me."
     During his returning game on October 13th, Marleau received a standing ovation in the SAP Center, tears formed in his eyes as he stood in the middle of the ice, stick raised in the air as a token of thanks. Marleau took to his wife's Twitter account the next day to share his gratitude towards his lifelong fans.
     "I wanted to take a moment and say Thank You," Marleau wrote. "Thank you to the @SanJoseSharks for the incredible welcome home, and to the fans for welcoming me back. I can't put into words what it means to me, what you all mean to me. There is no where else I want to be."
     Many fans speculate after 22 years of playing hockey — consisting of 553 goals, 619 assists, and just over 1500 games — that the 2019-20 season will be the last of his career. However, for now, Marleau focuses on the present and what's to come for him, as well as the Sharks, this season.
     "I'm playing with a great bunch of players as well is going to help out," Marleau told Baker. "The coaching staff here understands my game and they've always put me in the position to succeed so it's up to me to put in the work and take advantage of that opportunity."
About the Writer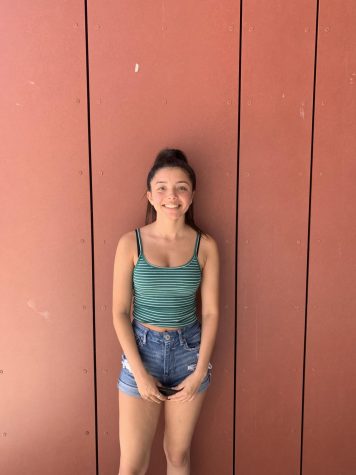 Alexa Andris, Art & Graphic Manager
Alexa Andris is currently a senior at Monte Vista High School. She enjoys hanging out with her friends, writing, traveling, and watching sports. She moved...