Art program begins new campaign
 Two Monte Vista art students won an art competition with the theme of inclusivity and kindness and donated their winnings to MV's visual art program. As a symbol of their gratitude, the art program dedicated their project to the competition's founders. 
     The Brandeis sisters, junior Sydney and freshman Sabrina, entered their documentary into the Teaching with Testimony contest and won a cash prize of $2,500. They found out they had won in August and have not stopped spreading the message they have been so passionate about.
     Winning this contest was a cause for celebration for both sisters. Not for the money or title, but for all their hard work paying off and their message actually making a difference. When entering this contest, that was their goal.
     "I didn't expect to win but I put a lot of work and a lot of time into it; we both did," Sydney Brandeis said.
     The campaign they introduced is centered around projects that inspire kindness, not hate, and that can really make an impact on our campus and daily lives as a whole.
     "It was a contest where you make a video about a project you implemented in your school then show how it affected your school and people's views on other cultures," Brandeis said.
     They wanted to specifically influence students about spreading kindness and being welcoming to all cultures and ways of life. They hoped this would affect how students interact on and off campus.
     "So we held a talk at Monte Vista which we called Diversity Undivided," Sabrina Brandeis said. "We got student speakers to speak to other students about their experiences with hate and how they overcame it and about their differences from other people."
     They felt the talk they had held would be beneficial for students, since having students speak to peers was more relatable than having an unknown guest speaker. 
     They were humbled by this, and excited for what is to come next with their project.
      "You were supposed to show the impact on your community and how you use other people's testimonies to further accepting outcomes," Brandeis said.
      With the project the two entered, they wanted to make a prominent difference in the school's community and environment as well as create something that students can relate to. They also made it a priority to spread awareness about their topic, diversity undivided, that they felt strongly needed to be faced head on.
     With the $2,500 grant they won, they generously donated it to the Monte Vista art department after learning how little funding the department receives from the district. 
     The AP art teacher, Jenny Drummond, was very happy about the sisters choice to donate the money to the art program. She had watched their journey throughout the contest. 
     "The art department only gets around $400 a year for all their students and curriculum," Sydney said. "So we decided that supporting them would be a really good cause."
     Sabrina Brandeis also supported her sister's suggestion.  "We wanted to do something that would make an impact and further our project at the school, not just donate to a program that wouldn't help at all," she said. 
     With the donation money, Drummond and her AP art students created a project as a form of thank you to the Brandeis sisters. 
     "Sydney and Sabrina donated all this money, so we offered to do something as a thank you," Drummond said. "So they gave us the [opportunity] to do the "I am stronger the hate" campaign."
     Sabrina Brandeis was excited to hear about this and happy that the AP art students were continuing their legacy. The money went towards purchasing materials for a block printing and silk screening assignment that students are currently working on. This culminates in a competition amongst students for creating their own "Stronger than Hate" campaign using block printing on t-shirts. 
    "Students can use their creativity to express their personal message for I Am Stronger Than Hate," Sabrina Brandeis said. 
     These shirts can spread the message using each individual student's creativity while still keeping the message apparent.
     "They entered the [Stronger than Hate] project with a visual essay called Learn to love," Drummond said.  "It was inspired by the racist graffiti found in the bathrooms and what the district and school did with it. [Not just racism] but xenophobia and homophobia. In the bathroom kids feel they will not be held accountable, so they let their darkest sides out." 
     The purpose of this contest was to create something that can be applied to one's school in a positive way to bring light to any sort of hate found on campus. The Brandeis sisters did just that, and are continuing on with their journey by starting with the I Am Stronger Than Hate t-shirts.
View Comments(1)
About the Writer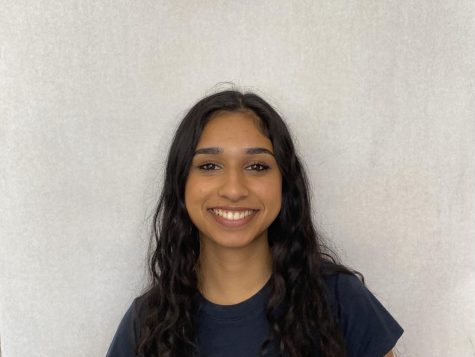 Paviter Randhawa, Social Media Manager
Paviter Randhawa is a senior at Monte Vista, going into her fourth and final year in journalism. This...