New district nutritionist introduces pre-order meal system
 The San Ramon Valley Unified School District (SRVUSD) hired a new child nutritionist who is looking to establish a pre-order meal system that caters healthy and nutritious food. 
    Miguel Villarreal has worked as a food nutritionist at multiple school districts for 39 years. He intends to create a pre-order system in which students can order meals off their phones. Most schools in the district are under-staffed, so there are fewer locations to buy lunch. Many students tend to stand in line for most of lunch, thus leaving them not enough time to eat. 
      "It will allow students to place an order for a food product and guarantee that the product they ordered will be available when they come to pick it up," Villarreal said.
     By creating a pre-order system, students will have access to buying lunch from their phone and can quickly pick lunch without waiting in line.  
     One of Villarreal's goals is to promote healthy and nutritional food to students on every campus. He also wants affordable food that caters to a variety of diets. 
     "All children should have access to affordable, healthy food," Villarreal said. 
     Districts have to follow a nutritional guideline with the low budget that the district receives. The federal government gives approximately $3 per meal which is not enough to provide a decent and healthy meal for students. Schools are then responsible for supplementing that amount themselves, often forced to increase the price incrementally so that the school site can make revenue and pay staff.
     Purchasing school lunches contributes to the school funding and various school programs. 
     "When [students] invest in school meals, it goes back into school investment," Villarreal said. 
     Principal Dr. Kevin Ahern wants the food to taste better so that students will invest their money into the food provided at the cafeteria's instead of using. According to Ahern, another concept of healthy and nutritional lunches is to grow fruits and vegetables on school campuses. However, there are legal issues that come with growing food on school campuses.
     "If I can offer as good [food], with a little more heart to it, coming from here," Ahern said. "Highschools don't have as much flexibility with the district … [in terms of] what can we grow." 
     Sophomore Sabeeka Qureshi can only eat halal meat due to her religion, so everyday she orders the "healthiest" vegetarian school meal. 
     "The most interesting thing they have is the bean and cheese enchiladas, which is literally horrible," Qureshi said. 
     Not only is the vegetarian food limited but there are no food products that have halal meat in school lunches. Another concern about the food served at the cafeterias is that it doesn't taste appealing.
     " [Serve] food that actually tastes good," Qureshi said. "For example, like when they have nachos, they are aware that nachos are a good food, but they only have those on Fridays."
Leave a Comment
About the Writer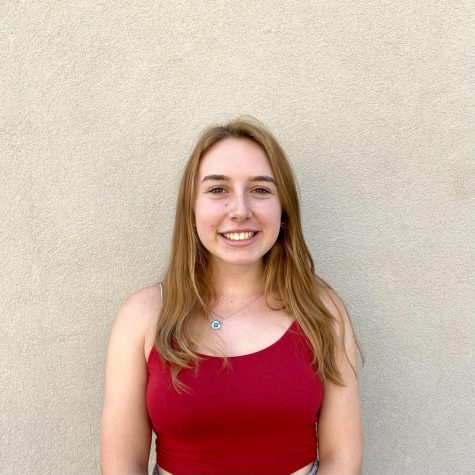 Angelina Izmaylova, CC Spin Editor


Angelina Izmaylova is a senior who is the CC Spin Editor and Breaking News Editor for The Stampede....