The force that keeps MV athletes healthy
Hang on for a minute...we're trying to find some more stories you might like.
When athletes are injured, support from family members, spirit from the team, and self-tenacity often expedites the healing process. However, another factor significantly quickens recovery: athletic trainers.
Students must pass one year of Monte Vista's sports medicine class and be recommended by the class' teacher, Julie Mellow, in order to be an eligible student trainer. Once they have that position, their role is to help head athletic trainer Lisa Gehrer with preparation, protocols, and clean-up of athletic events.
Student athletic trainers arrive three hours prior to the start of the game to set up.
"On game days, we prepare water containers to fill bottles and gather all the tape we have because athletes often need them," said senior Hannah Choi, a student athletic trainer. "We also prepare a container with Gatorade for the athletes to enjoy during their game."
Athletic trainers can work at a variety of sporting events. In the fall, their main focus is to help varsity football. Their role was critical at the rivalry game against San Ramon Valley, when two players collided head-to-head in the fourth quarter. In a situation like this, the level of concentration and knowledge of procedures is pivotal.
"When an injury happens, we run onto the field with [Gehrer] and assist her in anything, often running back and forth," Choi said. "We're working in a serious environment and as a student athletic training assistants, we're expected to know what to do and how to act if the worst happens."
Monte Vista hired Gehrer in July 2018 as a certified athletic trainer with eight years of experience. Although she recently joined, Gehrer has quickly grown connections with the student trainers and has taught them how to be successful in the field.
"I am on campus at MV every day during the week and sometimes on weekends, so I am able to communicate with students daily," Gehrer said. "The qualities that make a good athletic trainer are passion for the field, compassion for the athletes that you take care of, lots of flexibility, and good communication skills."
Athletes rely on student trainers to treat them properly. Establishing credibility will ensure that players can recover efficiently and quickly return to their sport.
"You have to be prepared for anything and prove to your athletes that they can trust you by always being available and helpful with an injury," Choi said. "You also have to be patient with athletes and learn to not laugh when athletes get injured. I used to laugh, but I've learned that it's not professional and won't help to treat the injury."
Working alongside a professional athletic trainer during games allows students to gain real experience on handling intense situations. This provides a perspective that is unlike the practice done in class.
"You can only learn so much when you have to tape someone in class and the environment is chill," Choi said. "However, when someone asks you to tape them during a game, it suddenly becomes so real. They expect you to get the job done fast and under pressure. I also gain friendships working on the sidelines. It was nice to know that [the football players] trusted me if they got injured or had a question."
Ultimately, the goal of an athletic trainer is to establish trust with the athletes that they will be treated and able to continue playing their sport.
"The most rewarding thing is building relationships with the athletes and knowing that you made an impact on someone," Gehrer said. "Being able to return an athlete to a sport that they love is very rewarding and it makes the job doable."
About the Contributors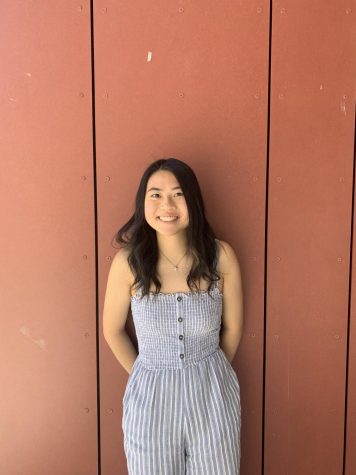 Claire Chu, Editor-in-Chief
Claire Chu is a senior in her fourth year of journalism as editor-in-chief for The Stampede. Although it is her final year, she will take the skills from...