Students reject an act of diversity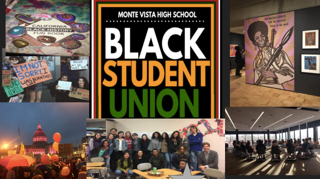 The posters were supposed to celebrate achievement. Hung at the beginning of lunch and less than one period later, ripped off the walls and not found.
Nationwide, February is designated as Black History Month to honor the roles and achievements of African American people throughout history. Monte Vista's Black Student Union (BSU) intended to educate the students at Monte Vista by hanging several handmade posters around the school to spread awareness and share information.
Senior and BSU co-president Sydney Shepherd anticipated that something was going to happen, unlike most of her club members, who were shocked.
"I was actually surprised," senior and BSU co-president Angelina Stroud said. "It was disheartening to spend our time on something like that and have it torn down so quickly."
Originally the club thought of investigating the incident by looking at the hall cameras, but decided it wasn't worth the work.
"I don't think we would have done anything," Shepherd explained. "I mean, it really sucks that we put our time and effort into it, but it does resemble the lack of acceptance on school campus. At the same time, that's going to be an obstacle we have going forward in just being a part of the school campus."
These actions have made several teachers and students emotional, including BSU adviser and English 12 Social Justice teacher Stephen Brooks.
"I don't understand why people feel attacked or insulted," Brooks said. "That's the thing, I really don't know that the feeling would instigate a reaction of tearing down a poster that is celebrating black lives, culture, and history."
He mentions how some students become uncomfortable when discussing racial issues and reading controversial books, such as To Kill a Mockingbird.
"I understand that, as a teacher, there are students who get really worked up in discussions [about race], so I know that people become defensive when a conversation turns toward race," Brooks continued. "I don't know if people who are white feel personally attacked when people attack racism."
At the beginning of the year, BSU had another incident where someone took a picture of their stand at the MV club fair. Later, on different social media platforms, the person protested that BSU was "self segregating," and there should be a white student union equivalent. Yet before that, a different student decided to write "colored" and "white" over bathroom urinals.  Though this happens on a daily basis, what does it say about Monte Vista?
"Do you feel personally involved in racist attacks? Do you get offended when people say there is white supremacy that still exists? Why would you be personally offended about that? Shouldn't you be offended that it exists? Shouldn't you work to end it?" Brooks questioned. "Rather than getting worked up by something that isn't a personal attack on you, help solve the problem than get offended by the perception that this attacks white supremacy."
Shepherd and Stroud consistently emphasize that BSU was created to celebrate, not segregate. Their goal is to encourage acceptance despite the student body's various backgrounds and identities. They believe that the students who decide to discriminate do not represent Monte Vista, but serve as "faces of hate."
Additionally, Shepherd discussed these events with Principal Dr. Kevin Ahern and Assistant Principal Kenny Khan. BSU didn't feel the need for punishment, but wanted administration to acknowledge that the posters were gone. Ahern and Khan agreed that the actions were not acceptable. If the club continued to receive backlash, then there would be increasing consequences in the future.
Leadership also supported the club by making new posters, later hung around the school. This time, no students removed these.
"We're not going to stop representing our culture on campus for our members and for people of color who are misrepresented on this campus," Stroud said. "They take down our posters, we put up more."