MV's less popular sports
Monte Vista sports you might not know a lot about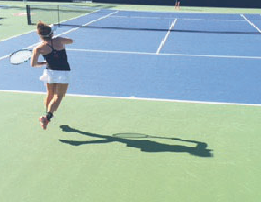 The whole school comes together in rallies for football and basketball, and the stands at Monte Vista football and basketball games are always packed with students. But have these students ever attended a wrestling, golf, or tennis match?
    Now, I'm not saying no one at Monte Vista has ever been to a wrestling match, but rather that there are some sports at Monte Vista that are just less well-known.
Wrestling
    The majority of Monte Vista students wouldn't know this but many Monte Vista wrestlers have participated in the East Bay Athletic League (EBAL), NorCal and even state championships. Recently, in 2014, Michael Mcdaniel became an EBAL champion, he placed third at NorCal and even qualified for state.
    "I've never seen a wrestling match or seen the sport promoted at Monte Vista, while I have been to football games which are promoted," sophomore Brooke Heiner said.
Golf
   The golfers here at MV have a match almost if not every week of their season with Roundhill Country Club as their home course. Men's golf is a spring sport while women's golf is a fall sport, but many students may not even know this because of lack of recognition of certain sports on campus. At their most recent invitationals, the MV golf team placed 3rd out of 23 schools on March 20th and 4th out of 24 schools March 13th.
Tennis
    Like golf, men's tennis is a spring sport and women's tennis team competes in the fall. Both men and women usually play two matches per week. Starting after school at around 3:30pm, the team of 12 to 20 kids work hard on the courts at least two hours. Within the past three years the MV women's varsity tennis has won Division I champion title.
   Alison Johnson played on the Monte Vista JV tennis this fall season. "We usually have parents come and watch our matches and occasionally students come too," Johnson said. "It's a fun sport to watch if you know how it's played and you know what's going on, or just if you're bored."
Softball
    For the 2016 season, the varsity softball team had a total of 11 players, two of which were seniors. Both seniors, Jordan Maddox and Malia Torres, have committed and will continue playing softball in their respective colleges (Maddox at the College of Idaho and Torres at Hawaii Pacific University). Softball is a spring sport with the girls playing at least once a week.
Volleyball
    Monte Vista has a wide variety of sports from volleyball to diving to lacrosse which are all unique in their own ways, yet all share the same sense of pride and sportsmanship.