TVLC
    Twelve schools, four teams, 1000 students, and months of preparation: the TRI Valley Leadership Conference.
    On January 27th, Monte Vista High School hosted the annual TRI Valley Leadership Conference(TVLC). Schools from all around the Bay Area attended to share ideas with other leadership students.
    The schools in attendance were Acalanes, Amador, Cal High, Castro Valley, Dougherty, Dublin, Foothill, Granada, Livermore, Mountain House, and San Ramon. The hosting duties rotate each year between Cal High, Dougherty, San Ramon, and Monte Vista.
    The day started out with a speech from motivational speaker Mike Smith who also spoke at Monte Vista last school year about changing the culture of Monte Vista. This time he spoke on the subject of leadership, as he is an experienced leader having started two nonprofit organizations,  The BAY, and Skate For Change.
    Each year the hosting school chooses a theme for the conference. 2017's theme was the NFL (Nations Finest Leaders). The twelve schools were split into four teams, the Bengals, the Dolphins, the Patriots, and the Cowboys, for the SWAP sessions.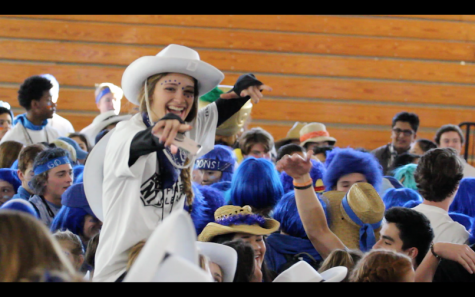 The SWAP(sharing with a purpose) sessions were when a group of three schools could come together and discuss specific questions regarding their leadership classes. They asked questions like how does your class recover after an event didn't go as planned. The main goal of this portion of the day was to gain and share skills that each school uses to have a successful leadership class.
    In addition to the SWAP sessions, there were also interest sessions which the Monte Vista leadership students facilitated. In these sessions, students from all twelve schools reported to two  interest groups of their choice .These included PR/Social Media, Athletic Recognition, Rally, Staff/Alumni Recognition, Student Outreach, Spirit, Technology, ASB Officers, Fundraisers, Community Service, Events, and Dances.
    Each group discussed specific techniques or ideas that they have used in their sections of their leadership class with the other students. For example, the PR/Social Media group discussed how they use social media to get the word out about events in unique ways.  The spirit group brainstormed on how to increase school spirit for non-sporting activities. Technology described to each other how they utilize their video platform, and Dances talked about how to increase the overall school attendance at dances.
    Senior Courtney Duroff described her part in the interest sessions which was her favorite part of the day.
    "I got to lead a session about teacher and alumni appreciation," Duroff said. "I loved meeting all the kids from different schools and learning what they do at their schools. Also, we now have more ideas to introduce to our student body and we can spice things up a bit so we don't become repetitive."
    Senior Cecily Kruger also really enjoyed this portion of the day.
    "This year I got to lead the Events session for Homecoming and things like Greek Week," Kruger said. "I had a great time listening to other students exchange ideas. My favorite part was talking about how other schools run their Homecoming weeks because I love getting new ideas to improve Monte Vista's Homecoming."
    Overall, Monte Vista received positive feedback for the event, especially on social media. Many pictures and thank you tweets were tweeted to the TVLC 2017 Twitter page. In addition to pictures, several schools and individual leaderships students posted videos from the event which can also be found on the Twitter page.
    A lot of hard work is put into this event each year, and leadership students like Kruger have witnessed how beneficial it is for the leadership class.
    "We learn about new fundraisers, which gives us new ideas on how to raise money for the school," Kruger said. "We improve our Homecoming week. Last year at TVLC, I talked to other schools about how they decorate for the dances itself and their floats, which gave me ideas that I implemented into our 'Magic' theme this year. TVLC helps you learn little things that other schools do that people may not notice but help make their school year better."