New Author Emerges from MV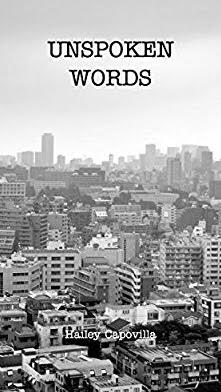 To write, let alone publish a book is an amazing feat for a sixteen year old, and yet Monte Vista seems to always accomplish the unthinkable. Junior Hailey Capovilla, our new author, has seemed to emerge from MV.
     Capovilla recently published her book Unspoken Words, written to inspire girls to open up more of the thoughts and feelings that they are too afraid to voice. What's more  is that all the proceeds from purchasing this book goes to the non-profit organization "Earth Justice," working to protect and conserve our environment.
     "I started writing a year and a half ago about the experiences and emotions friends, peers, and girls all over the world, including myself, have dealt with," Capovilla said .
     Directed to inspire young girls in high school and college, the book expresses Capovilla's thoughts, words, and experiences.
     "So many young girls go through so much during their teenage years and feel that their words aren't heard. I was inspired to let them know that they are not alone and sometimes opening up to share your thoughts and feelings is a way to overcome something or to share something amazing," Capovilla said.
     Her friends have been very proud of her, supporting her every step of the way.
     "Hailey's always been super into poetry- like when we go places, she always wants to go in bookstores and she can just spend hours reading through different poems," Junior Amanda Thornton, a good friend of Capovilla, said. "She just started writing down some of her own ideas and then she decided to put them all together into a book. I think it's really cool that she had the confidence to publish it and post, and I'm super proud of her."
     Hailey had the chance to work with and publish for "Earth Justice" thanks to her cousin, Megan Boone, the leading actress on NBC's "The Blacklist," whose cast recently got involved in the organization as well.
     "When I first started writing I had no intentions of making a book, let alone publishing it. I changed my mind when I realized I could make a difference and inspire someone to accomplish their goals as well," Capovilla said.
     Getting to raise money for charity and pursue something she loves simultaneously ended up being her favorite part of this entire process.
     "It was an amazing feeling that at the age of just 16 years old, I could accomplish this. I hope it inspires more girls to follow their dreams, make things happen, and make a positive difference in our society."
     When asked about her future in writing more,
     "My intention is to continue to write but my biggest passion is the broadcast media side of journalism. But I would absolutely do it again and plan to continue writing," Capovilla said.
     Go and check out Unspoken Words, up and published on Amazon.