REVIEW-Favorite Indian Restaurant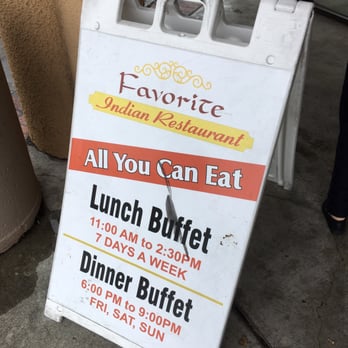 Being a foodie myself, it's always exciting to find new places to eat, as well as show other people some of my favorite restaurants. Recently, a couple of my Indian friends and I discovered that two of our peers, Timothy Huang and Ethan Peng, had never tried Indian food. We knew immediately that we wanted to be the ones to introduce them to the food of our culture, so we decided to try 'Favorite Indian Restaurant,' located in between San Ramon and Dublin. While most of us had eaten Indian food all our lives, none of us had dined at that specific restaurant before, so in some ways it was a new experience for all of us. As soon as we arrived at the restaurant, we were greeted cordially by the staff and seated with no delay. It wasn't long before the five of us were digging into our plates; for awhile, the only sound at our table was the clatter of cups and plates as we kept going back to the buffet for more food.
      The service was great and the atmosphere was friendly and inviting. There was a great variety of food available in the buffet, and unlimited servings. Although the buffet was lacking my personal favorite, Chicken Briyani, I still found the rest of the food delicious. The restaurant was attractive as well, and the meal entirely a bargain. I talked to Timothy and Ethan after the meal.
      "It was a really cool experience," Ethan said. "My favorite dishes were the tandoori chicken and the samosas."
      It was especially great to hear that the things he enjoyed the most were too some of my favorite foods. Timothy also had a great time eating Indian food for the first time.
      "There were many mixtures of flavors and spices that I had never tasted before," he recalled. "I feel like I learned a lot about Indian culture just from eating a good meal."
      While eating food may seem like a trivial aspect of our lives, oftentimes foreign cuisine is our only exposure to different cultures. For example, more than half of people living in the United States have never left the country. But although they may never get the chance to travel to places with sophisticated cultures like India, France, Thailand, and Spain, eating traditional food from such nations is a start to getting to know more about the world.
      The buffet also served as a platform to socialize. As we were dining, I realized that none of us were really talking about academics, a topic of conversation that often overpowers everyday life. Rather, we told jokes, exchanged stories, and simply enjoyed each other's company. It was really nice to take a step back from the stress of high school and only focus on savoring a meal with together.
      Not only do I recommend 'Favorite Indian Restaurant' as a great place to eat, I encourage others to step out of their comfort zones and try foods they never have before. Such immersion in different cultures can truly enrich our suburban lifestyle, offering a different perspective on things. I also encourage others to go out with friends to eat for the sole purpose of spending time together, not discussing grades, classes, or college. Eating great food with great friends gives us a nice break from the pressures of reality, something we all just might need.