REVIEW-Share Tea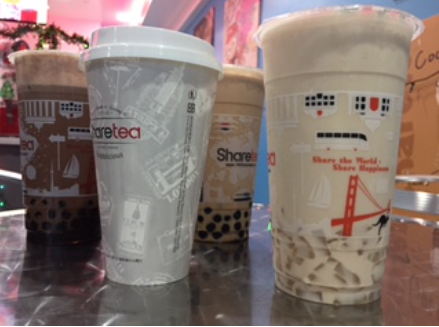 Share Tea is a small bubble milk tea shop located in San Ramon. I have visited Share Tea several times, and each time received the same experience. When I walk in, I am greeted with a scent similar to roasted sugar. The employees are chatting with one another, but automatically divert their attention to the incoming customers. Posters showing pictures of some of the drinks are spread around the restaurant, while three televisions display the menu, a yellow star appearing next to the recommended dishes. Even festive decorations light up the restaurant.
    I decided to try one of the recommended drinks, the cocoa creama (and, it was a buy one, get one, so it was a win-win situation). The drink was made surprisingly quick, so I was able to enjoy it right away. It was very sweet, tasting as though thick chocolate had been melted and mixed into the drink. As I drank through the dense chocolate, the cream remained at the top until the very end; however, when I actually tasted the cream, I was unimpressed. It didn't have the smooth taste I was anticipating. Instead, it tasted like salted butter on the brink of expiration. Nonetheless, the drink was all together delicious.
    Another specialty drink Share Tea recommended was the classic pearl milk tea, with the options of green, black, or oolong tea. Unable to decide which one to get, I ordered all three options. Although the drinks themselves were quite simple, they were still enjoyable. My personal favourite was the green pearl milk tea, which had a floral taste to it. Unlike other tea places I have visited, none of the teas had a burnt taste to it. Instead, they had a smooth feel to it, hinting a slight, but not overwhelming, bitterness at the end. The ability to adjust the sweetness to the tea when you ordered it also helps reduce the bitterness the regular tea provided.
    Between the drinks, hospitality, and decorations of Share Tea, I would definitely recommend giving it a try.
Name: Share Tea
Location: 2441 San Ramon Valley Blvd. , San Ramon, CA 94583
Phone #: (925) 718 – 5950
Website: www.1992sharetea.com
Prices: $3.29 – $4.99 (+optional toppings $0.50)
Recommended dishes: classic pearl milk tea, QQ happy family milk tea, cocoa creama, boba fresh milk