REVIEW-Arrival: not your typical Alien movie
Not your typical alien movie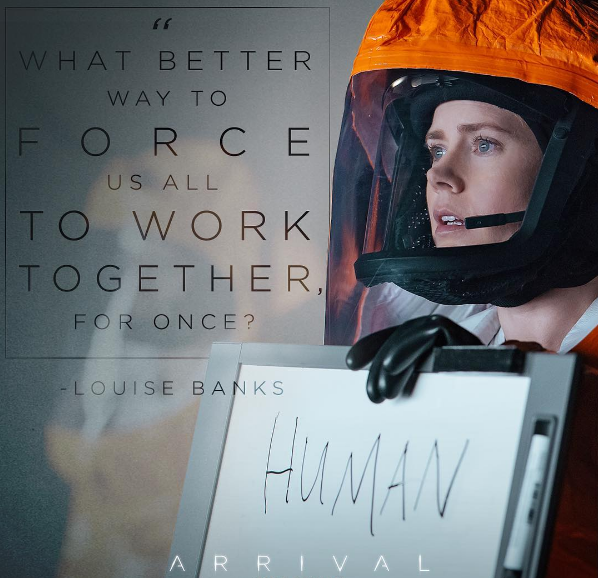 If you are looking for a movie in which your neurons will be thoroughly awoken, the new film "Arrival" is the film for you.   
    The film begins with Louise, played by Amy Adams, in several scenes with her young daughter. Her daughter's life is shown in short snippets, until one shows her death from an unidentified illness.
    Amy Adams is know for a whole host of comedic roles, however in this film Adams plays a more serious linguistics professor. While teaching a class one day, the entire school receives news that 12 spaceships have landed on Earth. For several days, Louise keeps a keen eye on the news and waits out in her house.
    Eventually, Louise is called upon by the government to join one of the twelve spaceship sites in Wyoming to attempt to communicate with the aliens. There are two aliens in each spaceship and they are categorized as heptapods.
    Louise works alongside physicist Ian played by Jeremy Renner in working on communicating with these aliens. Each day they work on site in Wyoming and every 18 hours the spaceship opens, allowing Ian and and Louise as well as military officials to enter the spaceship for a "session".
    The work in the spaceship as well as on the ground is quite fascinating. All I have to say is whoever came up with the concept of this movie and developed the language through which the aliens communicate with must have an incredibly high IQ.
    Although the movie had a slow start, once Louise reached the site in Wyoming, I was captivated by the film for the rest of the 116 minute run time.
    The special effects used to create the heptapods as well as graphics used for the alien's communication was admirable. I am usually not one for an alien movie with green slimy objects wandering around, but this film was much different.
     Amy Adams hit it out of the ballpark on capturing the emotions of a character encountering experiences no human has ever experienced. In many scenes you can feel the nerves of Louise heavily as she prepares to enter a session in the spaceship.
    Although the movie focused on the heptapod and their language their was also a large emphasis on Amy's' relationship with her daughter, ex-husband, and partner, Ian.   
    Overall I would give this film an excellent rating, and this is coming from someone who would never choose a sci-fi film on my own if it weren't for my dad's undying love for them. I would recommend not seeing this film for the ten o'clock showing though, as you do need all the brainpower you can get to grasp the depth of one of this year's best films.
Title: Arrival
Director: Denis Villeneuve
Writer: Eric Heisserer
Stars: Amy Adams Jeremy Renner ,Forest Whitaker ,Michael Stuhlbarg, Tzi Ma
Rating: R
Running Time: 1hr 58 minutes
Genre: Science Fiction