REVIEW-All the light we cannot see: a beautiful disaster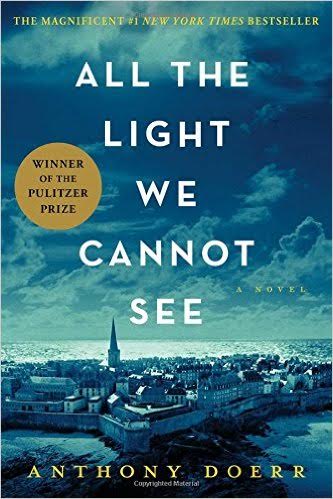 Anyone who has had their heart wrenched out by Liesel and Rudy in The Book Thief knows the pain of reading a story that kills you beautifully.
    Author Markus Zusak wrote a life-changing story about a girl named Liesel, who was living in Germany during World War II. His style of writing is one of kind, including both simple and equally complex means of storytelling. His indirect use of characterization helps the reader to truly feel a connection to the characters in the story. This story's point of view gives a unique perspective because it is in the view of death.      
    Now All The Light We Cannot See is taking up the bookshelves. Anthony Doerr paints the story of two different lives, and how they grow and become interconnected.  
     The first person is a girl named Marie-Laure. She is blind and relies on her father, who works in The Museum of Natural History, to help her get around Paris. She is gentle, but not naive. Her childhood of living in Paris during the 1930s, as well as her deteriorating eyesight, taught her to be cautious of who she places her trust in.
    The other character in this story is an orphan named Werner, who lives in Nazi Germany. He and his younger sister grew up in an orphanage. While passing the days away, Werner finds himself captivated by a crude radio, and teaches himself how to take it apart and build it again. This talent for engineering earns him a spot at the Academy for Hitler Youth, and he eventually gets taken into combat to complete special assignments.
     Doerr wrote this story in the perspective of both of these characters. He also switches to different time periods, starting in the future, then going back to the characters as children, and shows how they grow up. The dual time periods and perspectives are what allows the reader to develop an emotional attachment to the characters. By the end of the story, it feels as if they have watched the characters grow up.
     Most of the story is about their two separate lives, the changes they undergo, and the adjustments they must make to survive during World War II. The story slowly builds up, while still remaining engaging throughout the way, to the moment Marie-Laure and Werner meet, and the heart-stopping way they instantly need each other.
    Doerr has created a heart-breaking novel, Pulitzer-prize winning masterpiece. It spent 118 weeks on the New York Time's Best Selling list for hardback fiction, and was also named one of its 10 best books of the year. The book was shortlisted for the National Book Award. It also won the Andrew Carnegie Medal for Excellence of Fiction.  It was also a runner-up for the 2015 Dayton Literary Peace Prize for Fiction and won the 2015 Ohioana Library Association Book Award for Fiction.
    This story continues to have an impact on people. It was published in April of 2014, and there is still buzz about the book. The Monte Vista library even has an Ebook copy available to Monte Vista students, because it was in such high demand.
    If there is one book you should read this winter break, make it this one. You have to read it. It will change your life.
Page Count: 544
Author: Anthony Doerr
Publication: Scribner on May 6, 2014