Have clowns affected Halloween?
Due to a viral clown hoax that exploded on social media (starting in August) of creepy videos and photos of clowns, many people, including students at Monte Vista, are hesitant to go trick-or-treating this year.
      Due to the hysteria with clowns, the usual excitement for Halloween seems to have dimmed down this year.
      The sightings of clowns originated from a little boy from Greenville, South Carolina who reportedly saw two clowns in the woods; one of the clowns tried to lure him to an old, abandoned house in the woods, according to The Guardian.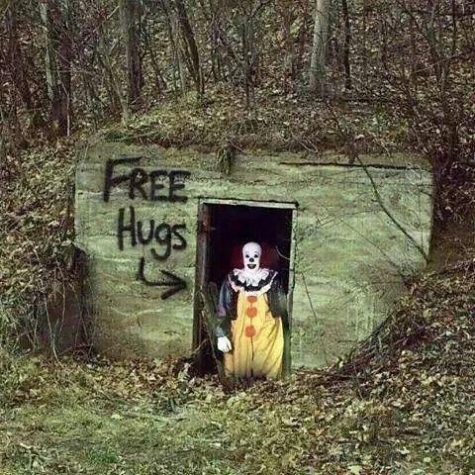 Following after this clown incident, a clown hoax exploded on social media (with videos and pictures of clown sightings), and later throughout the country.
      However, now, it has spread to the Bay Area, specifically the San Ramon Valley Unified District (SRVUSD).
      Clown threats were directed to Dougherty Valley High School through an Instagram post and California High School through a Twitter post, both from unverified accounts, according to police.
      Due to the clown frenzy being all over social medias, many believe these threats were a joke and wouldn't cause any real harm, such as freshman Carson Criswell.
      "Honestly I think it's just a big joke," Criswell said, "Someone's just trying to increase the fear with clowns."
      To take precaution, an increase of police presence was brought in throughout the SRVUSD district and schools took extra safety measures to ensure the wellbeing of students, like Monte Vista High School.
      "Besides the secure campus monitors we have, that operate from 7 AM to 7 PM, during breaks (brunch and lunch) the three assistant principals are circulating campus," said Officer Manager Jodi Mcfarland. "… our primary concern are for students, the staff, and the faculty. Safety comes first, before education."
      In addition, SRVUSD sent out an email regarding the clown frenzy and notifying parents of the first threat in SRVUSD, at California High School. In the email, they also included what safety precautions the district is taking, in order to keep students from possible harm and threat.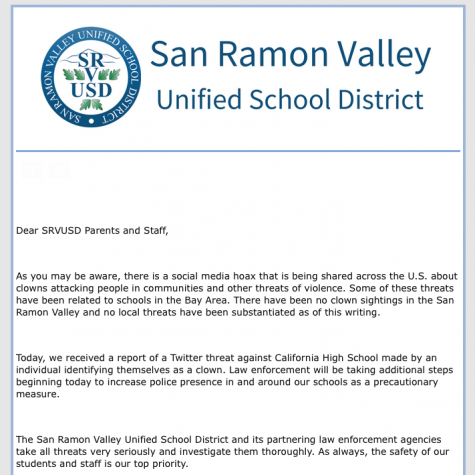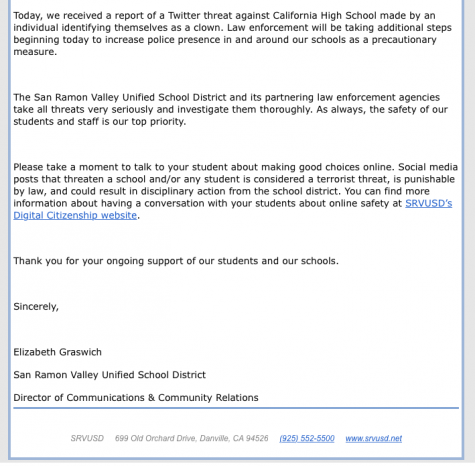 Although many students are a bit skeptical about the whole ordeal, like freshman Tori Hanson, she isn't letting this get in the way of her trick-or-treating.
      "I'm still going trick-or-treating in Blackhawk [as Harley Quinn]," said Hanson, "…I'll have my friends by my side, so I feel okay."
      At the end, the aftermath of Halloween confirms that the whole clown ordeal was just a hoax to scare people.
      San Ramon Police have confirmed that there were no clown threats during Halloween, recorded in the SRVUSD area.