The Cosmos are back for one last year
    After a three year hiatus, the Cosmos are back on the soccer field.
    The majority of this recreational, no cut level Mustang soccer team's players are seniors at Monte Vista. These include, Megan Brear, Ashlyn Gonzales, Alyssa Rutchena, Callie Zeifang, Mattie Olson, Sierra Taylor, Keely Prosser, Serena Foote, Kate Nagle, Julia Guard, Nicole Varon, Alexis Liautaud, and Claire Copeland.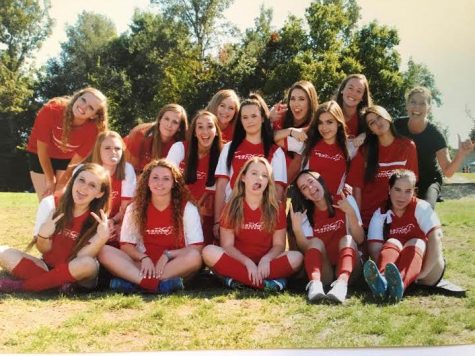 The original team started around 2007, which was third grade for the players, and has been coached by Christine Keery, Brear's mom. The team lasted all the way up to high school, when the players decided to end their soccer careers, but little did they know they would return their senior year.
        "I mainly chose to play for my mom, she's been head coach of the Cosmos since the beginning and has always begged me to play again once I stopped," Brear said. "I figured it be great to get everyone back together again to play one last year."
   The first semester of this school year has been very busy for all the players as they are keeping up with their classes and working on college applications, which is why many of them appreciate that they are playing in a recreational soccer league.
    "The advantage of playing at a lower division is it doesn't control your life," Brear said. "It's great because some nights when I'm smashed with homework and college apps I can skip practice without being benched for the next couple games. Also, the main goal of it is to have fun, not so much winning or losing which adds a less competitive component you wouldn't have playing upper divisions. And you get to pick your team so all your friends are on it."
     Fellow player Ashlyn Gonzales only played throughout middle school but she also explains why she chose to come back this year.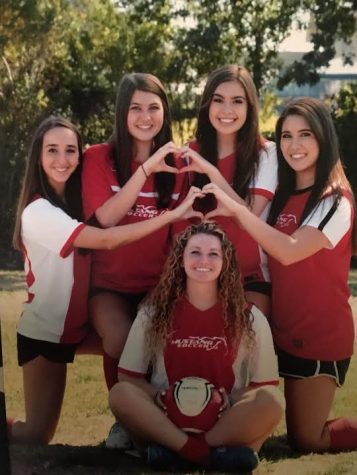 "I wanted to play again because it is good way to socialize with friends and exercise at the same time," Gonzales said.
    With graduation in mind the players have really enjoyed playing one last season with each other until they all go their separate ways next year.
    "We've all known each other for forever and it's fun to play with everyone again," Gonzales said. "I will miss playing soccer in general, I haven't done it in such a long time and this reminded me how much fun it is."
      Brear also explained how meaningful this final season has been.
       "My favorite part is having all the old players back together on the same team again," Brear said. "We were all best friends before high school but you can get so distanced from people so it's been great to rekindle those friendships and I think soccer has done that."
    Being a part of this team has really made an impact on these players. They weren't trying to be the best, or pursue it as a high school sport, they all just played to laugh and have fun. Though bittersweet, this last year has meant a lot for the players and has been a great way to enjoy their senior year with their childhood friends.