Feminism vs. MV
Feminism has been around since the 1900's, but lately it seems to have made a comeback not only throughout MV, but internationally.
What is feminism? Social, political, and economic equality between men and women.
Senior Leonelda Tafaghodi, co-president of MV's new Women's Empowerment Club, has a lot to say on the subject.
"A lot of scrutiny is associated with the word feminist," Tafaghodi said. "If you identify as a feminist, you're also under that scrutiny.
MV Women's Empowerment has a mission statement; "Promoting women's education and wellbeing."
Leonelda Tafaghodi and Kayla Gosnell, co-presidents, originally had the intent of supporting the cause of women's education, but joined with another similar idea.
Junior Anna Chiniquy is the treasurer of Women's Empowerment, and is as excited as the rest of the members.
"There hasn't been a club like this before," Chiniquy said.
They plan to have fundraisers, social events, and volunteering opportunities such as weightlifting, watching He Named Me Malala, and volunteering at women's shelters.
He Named Me Malala is a documentary about Pakistani teenager Malala Yousafzai who spoke out for education and nearly died for it. Looking up to the youngest-ever Nobel Peace Prize Laureate, MV Women's Empowerment plans on following her example and also supporting Malala's Foundation.
However, this group of women face disapproval often. Junior Katie Munger, also an officer of the club, elaborates.
"Some people joined our club as a joke," Munger said.
"People are just really mean," Chiniquy said. "They just don't know what it really means to be a feminist."
Not only have there been feminist movements, there have been meninist movements.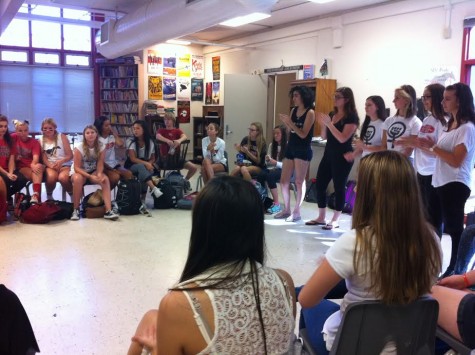 What is meninism? Urban dictionary defines it as a mockery of feminism, and an article on Buzzfeed describes it as a movement for men to have the same equality as women.
Anna Chiniquy says satire.
"They just don't know what feminism is," Chiniquy said. "It takes the attention away."
The technical definition of feminism is for women to have the same political, social, and economic equality to men.Which, in turn, makes meninism irrelevant.
What is feminism to you? To MV Women's Empowerment, The dictionary definition is only an aspect.
Junior Marissa Conlon, Vice President of the club supplies an inspirational quote.
"[It's] having self-confidence in your gender," Conlon said.
MV Women's Empowerment is determined to make a difference, however small, to continue a movement started hundreds of years ago by women with the same cause.
"Fight for the right [we've] been denied based on our biological being," Tafaghodi said.