Model in Paris
A senior from Monte Vista, who is also a model, strutted her way to New York and Paris for Fashion Week.  Senior Olivia Addis is a new model for Wilhelmina Models, and got to spend  a few weeks in New York and Paris for Fashion Week.
Olivia started modeling only recently when she was scouted last summer while hiking in Yosemite, and was invited to an event called Fox Models International. This event was where scouts brought hundreds of girls together and they were casted for different modeling agencies such as Elite, Trump, DNA, or Wilhemina.
A few weeks later Addis received word from Wilhelmina NY that they would like to offer her a contract. She believes that she will soon sign with a more local agency in San Francisco.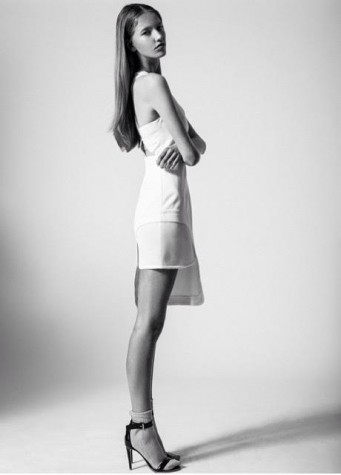 Olivia spent a month of her summer in New York, modeling, and living in a modeling apartment with seven other girls. She then returned to New York a week before school started and stayed there for another month for Fashion Week. A short while after coming home from New York, Olivia left for Paris as a part of a "show package" that Wilhelmina sent there. A "show package" is a group of selected girls that the agency wants to send to showcase.
Once she was in Paris, Olivia was swept up into the busy and hard life of a model going to as many as five to ten castings a day for different brands. A casting is like a job interview, but for a brand where models meet the directors, walk for them, and take some pictures. Everything during fashion week is very last minute.  
"I don't think that people realize how much work it really is," Addis said. "You always have to be ready and constantly be having to check your phone."   
Atop of all of this, Addis had to fit in schoolwork and college applications somewhere. Her identical twin, Arianna Addis, also a senior at Monte Vista, helped her with all of her classwork that she was catching up on.
"It was hard for her because she wasn't at school for the first few weeks," Arianna said. "I was the one who had to get her the assignments and teach them to her."
Arianna described this as being hard on her as well because of the time differences and the fact that all material was new to Olivia, but it ended up they were both okay.   
Olivia is also is sad about missing marching band where she is a section leader of the tenor saxophones. Even though she was never casted for a brand, she is looking towards the brightside.
"This opportunity has made me so much more independant and self sufficient," Addiss said. "There is no one to hold your hand: it's your responsibility to be where you need to be on time, figure out transportation, or buy your own food."
She feels that she is very lucky to have been able to experience all that she has being a model. She has been able to meet the casting directors from Calvin Klein and Louis Vuitton, me the designers from Proenza Schouler, and been at castings for large brands such as Saint Laurent, Calvin Klein, and Alexander Wang. She has also been able to make friends from all over the world, and had an amazing cultural experience.