San Francisco -Something for everyone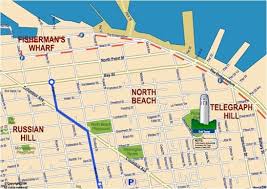 North Beach, Chinatown, and The Castro are three distinctively different neighborhoods of San Francisco; they all hold their own charm and identity, adding to the unique flare of San Francisco.
North Beach is located on the North East Side of San Francisco, and is in close proximity to Chinatown and Fisherman's Wharf. According the the American Planning Association North Beach is among the top ten neighborhoods to live in in all of the United States.
North beach has a very distinct flare and identity. The neighborhood is the home of little Italy, and holds a large part of the Italian population in San Francisco, including all of Little Italy.
One of the most famous attractions of North Beach is the Molinari Delicatessen. It is a widely known and respected Italian Deli that has been an epochal of North Beach since 1896.
"North Beach had become very diverse." Employee of Molinari Steve said. "We have been here for 118 years and this is an Italian landmark of the west coast. We are proud of living here."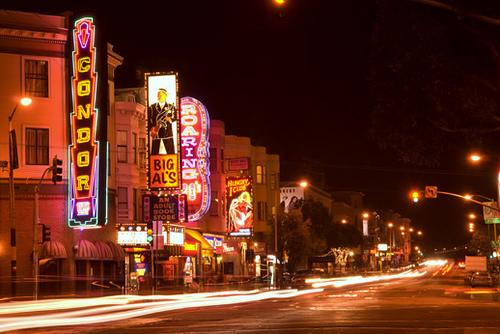 In the restaurants and shops of North Beach the Italian flare and identity has a strong hold. People are attracted to the high class Italian Restaurants, charming shops, and rich history.
"In the past there has been a lot of Italian places." Brynn, employee of the North Beach shop The Proper Fox, said. "It has never gendered, and still holds its old flavor. My favorite thing is that every neighborhood in San Francisco can have its own individual identity, but it in no way affects the other neighborhoods."
Around the late 19th century North Beach gained its identity, which it still holds strong today. The neighborhood is home to a specific group of people who seems to stay. In a neighborhood as small a .4 miles across it would not seem like such a popular people to stay, but Amber, North Beach native, argues that most of the people in North Beach never leave.
"Things have gotten a lot more blended recently." Amber said. "North Beach is the refinance of Little Italy. The characteristics still stand true to this day."
Amber continued to comment on how kind the people of North Beach are. It is often said that the people of North Beach have their own flare, and she says this flare comes from their location, rich history, and the stereotype they have gained over the years.
Just one block over a different language is spoken, a different ethnicity is prominent, and a whole different world exists. Chinatown is a completely different experience than North Beach.
The shops lining the intensely crowded streets had Chinese delicacies. There was new foods to explore and a new culture to dive into. The language barrier was much more difficult to overcome. I became the odd one out, and I had a very hard time communicating with the people of Chinatown.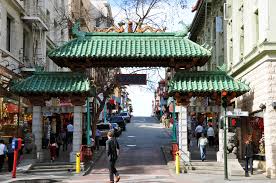 Chinatown in San Francisco is the longest standing Chinatown in North America. The densely populated neighborhood holds the largest concentrated population of Chinese people outside of China. From the beginning of its founding in 1848, it has been a trademark of San Francisco.
"I think Chinatown is very Chinese oriented, it is different from the outside world." An Employee from Stockton Bargain Center said. "You have to speak Chinese or be bilingual to survive, and it makes it very unique."
The woman who spoke to me at this store spoke very poor english, but was able to communicate in the best way she knew how. She wanted to remain anonymous, as did many of the people I attempted to interview while I was in Chinatown.
The people of Chinatown were much less conversational, and seemed to be in a much bigger hurry. People littered every crock and cranny of the streets. While walking I found a man playing a strange instrument in a small alley.
He introduced us to his instruments, and he said, "this is my erhu." He had a sign behind him stating that he was featured playing his erhu in the movie "Pursuit of Happiness." He was very proud of his instrument, and even though he spoke very little english, it was obvious that he had pride for his traditional Chinese instrument.
The people of China town seemed as though they were in their own country. It was as if there was a little corner of China that was inserted into San Francisco. People here were proud of their culture, and were rich in history and diversity.
Just another few minutes away lies a completely different neighborhood. The Castro, holding a large LGBT population, stands proud with rainbow flags flying in the wind.
The neighborhood can be properly described as being colorful. The crosswalks are rainbows, all of the shops and restaurants have bright colors to attract customers, and the people are all bright. The Castro has a distinctive identity, and is easily identifiable the second you enter the neighborhood.
As soon as you enter Castro Street, the heart of the neighborhood I meet Steve. He was  on a bike in attempts to raise money to treat and cure AIDS. He has been living in the Castro for many years, and had a very good idea of the true identity of the neighborhood.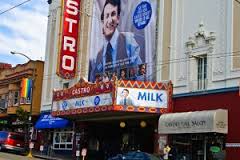 "I guess my blanket statement is that they are open to everything." Steve said. "As long as you're not hurting anybody, you are welcome here."
One of the main vibes of the Castro was the kindness of the people, and the amount of resources there were to help people. Many people lined to streets advocating for equal rights, biking for AIDS research, and testing for diseases such as HIV/AIDS.
A transgender woman named Mary came up to my mother and I and talked to us for almost thirty minutes. She was part of the Sisters of Perpetual Indulgence, a group of people who volunteer around to city with many different organizations, who are there to help where help is needed.
"I was born and raised on 19th and Castro." Mary said. "What started out as an Irish Italian neighborhood turned into a gay mecca. Everyone pretty much gets along, and lots of love and compassion is shared among the people here."
The Identity of the Castro, being mostly gay, seems to have become the defining feature of the Castro. Speaking with the people of the Castro I have come to identify the neighborhood with kindness and compassion, not the surface level stereotype.
All three of these neighborhoods are different and have their own flare, but they make up one of the most amazing cities in California if not the country.