Building the future one robot at a time
Robotics is an important part of the technological future and Monte Vista has students and teachers that are impassioned about using this technology.
The Monte Vista Robotics team known at the Red Ties was started in 2004 by Mr. Huntsman and former Monte Vista teacher Mr. Lamb, and is part of a bigger group called FIRST.  FIRST is a science and technology based group that sponsors an annual robotics task that immerses high school students into applying their skills.
Robotics' students love what they do and show this through their work ethic and attitude about the class.
The dedication that the robotics team has is extremely admirable, especially with this year's FIRST challenge.
The challenge this year is "Recycle Rush", in which robotics students build a group of robots that can stack crates, stack recycle bins, and put a pool noodle into the hole of a recycle bin.  The Red Ties will be going to a competition where they will compete against other robotics teams from around the world.  At the competition, students will manually steer their robots to perform the commands they are given by the students whom will be outside of the arena.
"Students will learn science and engineering principles by challenging themselves to solve a real-world problem," Robotics teacher Mr. Andrzejewski said.
David Hungerman is a member of the Robotics team and works on the robots during the weekends.
"We have been coming in after school every day to work for 3 hours these past 6 weeks", Hungerman said.  "On Saturdays we are here from 8a.m. to 5p.m."
The commitment to this program only encourages the team members to work harder.  Their passion for robotics has skyrocketed the team to success in the past such as winning $500 from other competitions and will continue to motivate them to achieve their goals.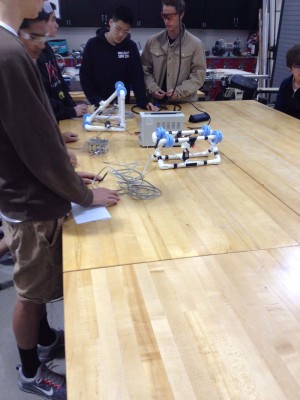 "I'm very dedicated," Hungerman said. "This is my life."
A few years ago, the Red Ties worked with a company called AMAX, a leading provider in data storage.  The task was to create a detection system for malfunctioning ESD bracelets, the bracelets are worn by the workers in factories to prevent static charge from damaging electrical components.  AMAX offered a $500 reward for the best design.
The Red Ties, along with some Monte Vista alumni designed a signaling device for detecting malfunctioning ESD bracelets.
"The signaling device notifies a manager if a worker's bracelet needs to be fixed," Mr. Andrzejewski said.
AMAX loved the prototype, and said they would be able to implement the system in their production lines immediately and see immediate positive impact.
"AMAX will mass produce our design and install it in their factories around the world," Mr. Andrzejewski said.
Monte Vista robotics students are famous within the tech community but Monte Vista will not benefit directly from their efforts.  At the same time, more opportunities may arise because of the high quality work the students produce on a daily basis.
"Monte Vista's reputation will benefit because the success of the robotics program will attract other students impassioned about this field to attend Monte Vista, and work with students who are ready to accept challenges of the future," Mr. Andrzejewski said.
Reed Jochimsen worked on the AMAX project and is currently working on the "Recycle Rush" challenge.
"We learned more about electrical components, problem solving skills, and AMAX itself," senior Reed Jochimsen said. "I hope to do more of these projects in the future."