Dedication at dawn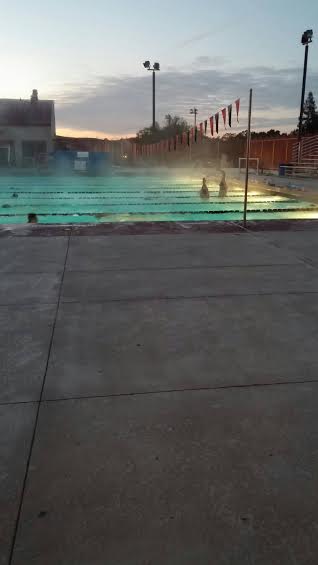 Monte Vista has many sports available for students to participate in and numerous student athletes who dedicate many hours of practice every week.
Dow Stewart, varsity swim coach and math teacher, conducts early morning practice every Tuesday and Thursday. Tuesdays being a late start day, make practice a bit more reasonable. Also, Mr. Stewart notes new NCS rules: no back-to-back days for practice during both the morning and afternoon.
"We are able to do different things in the morning," Stewart said. "We are able to do dryland, and we are able to do sets in the morning that build on getting more stroke technique in and kicking sets."
Sleep is a major concern when dealing with morning practices. Being able to sleep even just one extra hour is a luxury, but having only one really early 5:15 AM practice on Thursdays for varsity swim lessens the ordeal.
"They have to be able to manage their homework and sleep," Stewart said. "It's up to them."
Morgan Fissel is a sophomore on varsity swim who attends morning practice.
"Even though morning swim is a struggle, I think it really does help people get more in shape because we get another two hours of practice," Fissel said.
But overall, not many sports have morning practice, especially during off-season. Football and water polo are fall sports that have morning practices.
Craig Bergman, football coach and PE teacher, currently has morning practice for freshmen team twice a week on Tuesdays and Thursdays. He hopes to increase it to three days per week, so it will be a better transition to summer weight training. Mr. Bergman has a sixth period sports conditioning session for the upperclassmen players, but since freshmen have other commitments after school, they have morning sessions.
Brook Rogers, men's water polo coach and PE teacher, has morning weight training session for all returning players on Monday, Wednesday, and Friday, as long as there is no conflicting swim meet on those days. He has resumed off-season weights sessions again this year. He has had such practices previously only during his first two years coaching.
Rogers said, "They [the players] wanted more strength training and it's a good thing to have; it's one of our weaknesses so we need to get stronger. It will also help their swimming. I have kind of tailored it to where it's swimming-based as well. It's more streamlining them. It will add a little more endurance when they swim."
Again, having enough hours of sleep is always a concern for athletes going to morning practices, especially during off-season.
"I think that time management is more important," Rogers said. "If you are an athlete, you need to manage your time so you are not up until one or two in the morning because you procrastinated for three hours watching TV or playing a video game. If you get your work done, you should get enough sleep."
Water polo off-season practice starts at 6:15, 15 minutes later than the usual practice during the season. During the fall season, girl's water polo practices at 5:30 in the morning, and many year round USA swimmers start practice at 5:00 or 5:30. Therefore, 6:15 is reasonable in comparison. However, current water polo morning practice is not easy.
"We still have the same standards," Rogers said. "We just treat it as practice like before. It's a group that I don't have to worry about as far as motivating them or keeping them in line. They do a great job of policing themselves and making sure everyone shows up and help each other up."
In the end, the main goal of morning practice is simple: extra practice time.
"Trying to break habits for swimming takes about 10,000 times of doing something correctly to instill it," Stewart said.