Heart of MV spirit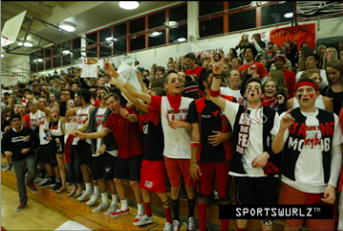 One high school sports game at a time, Stang Gang reaches to change the world – or at least Monte Vista – into a better place.
The concept of Stang Gang is really quite simple. They're a group of Mustangs who bring spirit to less recognized sports teams. They dress up, paint themselves red and black all over, and raise the spirit through the roof.
"Sports like volleyball, soccer, and water polo never have enough fans. Basketball and football have roaring crowds that cheer and give the team a boost. [We] wanted to create Stang Gang to give those teams a chance to experience what a student crowd is," senior Jordan Weil said, one of stang gang's founding members.
They began with a water polo game, and the ten members in attendance really boosted team morale. The game went into double overtime and Monte Vista won.
"That's when [we] knew we had something," Weil said.
Stang Gang really blossomed when they brought up their idea to leadership. Mrs. Greco and the rest of leadership loved the idea of cheering on sports with less of a follower base.
"Stang Gang is for anyone with spirit and heart who wants a fun group to cheer with," Weil said .
Stang Gang tries to show up for as many games as possible, for all sports and grades. They plan on having more tailgates and events. Weil, along with two other members, Daniel Reget and Chad Housely, were asked to be spirit leaders for the San Ramon football game.
The efforts and heart shown by this spirited group of students greatly raises the morale of MV's sports teams and is appreciated by other students.
"#StangGang is easily one of the coolest groups of people. [I] love you all so much, I can't tell you enough how great you have made my senior year," senior Natalie Brooker said in a tweet.
Jenyth Utchen, volleyball coach, AP Lit. and English 9 teacher, agrees that Stang Gang was "instrumental in my volleyball team's success."
Students increasingly showed up to volleyball games in their "Mustang Wall" T-shirts. Over 50 students were at the SRV away game, then more than 75 at the second round play-off against Mission San Jose, and finally a full house for the NCS championship against San Ramon.
"It was the first time we put both halves of the bleachers down for a  women's volleyball game!" said Utchen, "Our fans were loud, organized, and fun to watch.  They really gave us a home court advantage, and intimidated the other teams. "
Of course, the success of the volleyball team cannot be all credited to their fans and, of course, Stang Gang, but to their own talent, dedication, and hard work.
"I love that when we go to games I'm able to be with all my friends in one place, and do something different before we all go away to college," said Chad Housely, another senior there for the creation of stang gang. "[We're] one big happy family."
"God bless Stang Gang!" said 2015 rally chair, Quinn Mooldyk.