Coach of champions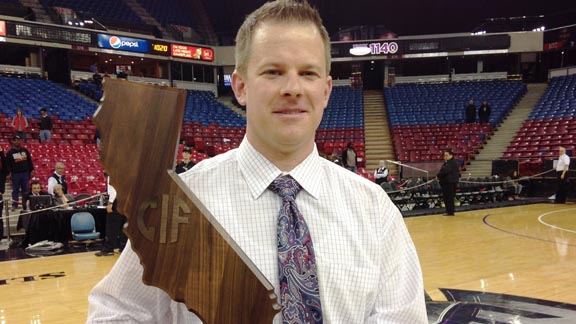 Behind every great team is a great coach. Nick Jones, coach of last year's state champion varsity basketball team, will be leading this year's team. Last year, the team won the state championship title against Centennial-Corona, giving Monte Vista its first state title. With a high bar set for this year's team, Jones is ready to prepare his team and reach their goal of returning to the championship.
"That's the ultimate goal, to win again," Jones said. "It'd be great to do it again."
Only under a coach like Jones could a team work so hard and have such extraordinary results. Jones brings his expertise from his 12 years of coaching to the team, as well as his experiences from playing college and high school basketball. At his time at Monte Vista as a student, he played on the varsity basketball team for three years, and in 1998 his team won the league, with him as point guard captain. He continued on to playing for two years in college, and finally returned back to Monte Vista.
"Coach Powers asked if I wanted to coach in 2003," Jones said. "I really enjoyed it, had a great time, looked into teaching, got my credential, and the rest is history."
After coaching at Monte Vista for four years, he left for a varsity job at Castro Valley. However, unable to stay away from his own high school, he returned to the Monte Vista coaching staff as varsity coach in 2012.
Jones not only works as the varsity coach, but is also a teacher here. His reason for teaching and coaching are the same; he likes working with kids. However, coaching also drew him in because he enjoys competition, and more importantly, basketball.
With an important season coming up, Jones has his team practicing as much as they can, practicing 2 hours a day, six days a week, and playing in 2 games every week. With all five starters of last year graduated, the group is figuring out how to work together.
"Right now we are going through some growing pains and trying to figure out what our identity is going to be this year," Jones said. "We're working towards getting where we need to be to compete again for a championship."
However, Jones is optimistic about where this team will go. He knows that this team will play hard and compete hard on a daily basis, striving to perfect their game and become the best athletes they can be. They are willing to put in the time, and are a group of hard-working players. Team members who will be returning from last year have felt the happiness of winning a state title, and will strive to win once again. With the bar set high for the team, the players are even more focused on playing well and working together.
"We've got 5 new starters and the starting line- up is not set yet," Jones said. "We're still mixing and matching some of the spots so hopefully within the next two weeks we start nailing down the starting 5, get in a set rotation, and start identifying some roles."
The future is looking bright for the men's varsity basketball team, and a supportive coach is just what it needs to succeed.
"We're taking things one day at a time, getting better each and every day," Jones said.