Upcoming Entertainment
November will turn out to be quite a successful month for movies this year, with many film industries gearing up for the holiday season.
Family Movies
Disney Picture's Big Hero 6 will be a film adaptation of a Marvel Comic's mini-series dating back to 1998. The protagonist, Hiro Hamada, is a young boy who grows up in the aptly-named city of San Fransokyo. Hamada, who just happens to be a robotics prodigy, along with his trusty robot companion, Baymax, uncover an evil plot to destroy the boy's city. It is up to Hiro, Baymax, and their friends to team up and fend off the evil ploy. Big Hero 6 is rated PG and will be released November 7, 2014.
Dreamwork's The Penguins of Madagascar reveals the extremely classified top secrets of the feathered, fighting foursome audiences have come to know and love. First appearing in the film Madagascar, this will be the first full-length film with the penguins holding the spotlight as they attempt to foil an evil doctor's plan to conquer the world. The Penguins slide into theaters November 26, 2014.
Comidies
Universal Studio's Dumb and Dumber To is a revival of the classic comedic roles of Jim Carrey as Lloyd Christmas and Jeff Daniels as Harry Dunne. This time around, the two embark on a "quest" to find Harry's biological daughter across the country across the U.S. as their usual crass and ridiculous situations are more than likely to ensue. Dumb and Dumber To releases November 17, 2014 and is rated PG-13.
Action
Lionsgate's latest picture in The Hunger Games Trilogy, Mockingjay Part 1, continues the story of Katniss Everdeen (Jennifer Lawrence) as she struggles to become the symbol of rebellion in her country of Panem. In the thrilling first part of the trilogy's finale, who will survive in a world on the brink of warfare? Find out November 21, 2014, (rated PG-13) when it hits theaters.

Halloween Fun
Well, Mustangs, it's almost that time of the year again. The time of werewolves, vampires (Hopefully not the Robert Pattinson version), and ghouls; of bobbing for apples and carving pumpkins; of dressing up like our most terrifying nightmares. Of course, I am referring to Halloween. But what if Trick-or-Treating just isn't your style anymore or you don't have any parties to attend that night? If you're having trouble finding an eerie or entertaining activity for Halloween, here are a few horror movies that can help you get into the frightful spirit!
If you happen to be at the movie theatres this Hallow's Eve, you might want to check out Ouija, a new release following the unnerving tale of a group of teenagers who release evil spirits from their Ouija board game and must face the deadly consequences. But hey, it's just a game, isn't it? Ouija releases on October 24, 2014, and is rated PG-13.
If you're still at the theatre and want another spook-tastic flick, check out Annabelle. The prequel to The Conjuring, this movie revolves around a demonic doll that haunts a couple and their newly-born baby. Annabelle comes to theatres October 3, 2014, and is rated R.
If you're planning on staying home for the holiday to help pass out candy, a recent movie that may strike your fancy is The Cabin in the Woods. While possibly not as fright-filled as the other titles on this list (but definitely more gore-filled), this story of a group of college kids who spend their weekend in just some regular "cabin in the woods" is still a shocking thriller that will leave guessing until the very end. The Cabin in the Woods is now available on Netflix.
Finally, if you're in the mood for an older movie, from the 1980's, you should look up The Shining on your television. Jack Torrance, the main character, slowly loses his mind at a secluded hotel with only his wife and son present. The Shining is not available on Netflix and is rated R.
Leave a Comment
About the Contributor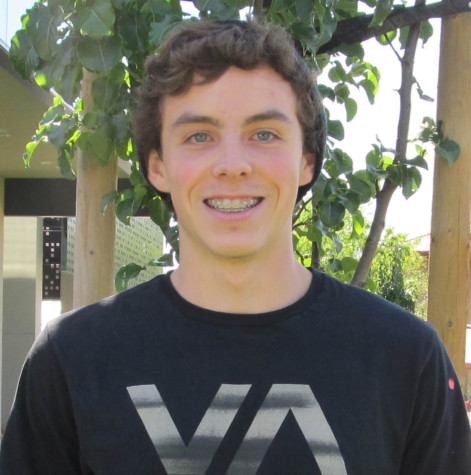 Bailey Ferguson, Senior Staff Writer
Bailey is currently a junior at Monte vista. He lives with his mother, father, two brothers, and two...