Napa residents continue to restore the "Wine Country" after the quake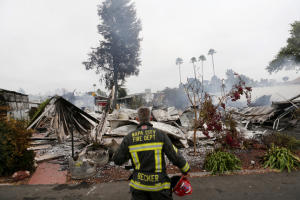 The trembling of the Napa earthquake only lasted a few seconds, but its aftermath has affected many people, homes, and buildings through the present-day.
After the powerful 6.0 magnitude earthquake struck South Napa, at 3:20 am, on August 24th, many were frightened to find an excessive amount of valuable items in their homes and big chunks of buildings falling down, such as Robert Lewis Tyler, who was a tenant at a Victorian Mansion in Napa at the time.
"I was so glad, I'm alive," Tyler said. "But after a couple days, reality starts to hit in. Now I have to find another place to live."
Finding an alternative place to live, wasn't the only problem for the residents in Napa. Local shop owners have continued to struggle with their businesses as some are still trying to repair damages in their shops.
Napa is a notable place for its beautiful vineyards and wine. But after the earthquake occurred, many local wineries have feared how it has impacted their business. Napa Valley's wine industry has $80.3 million in damage and the cost continues to rise.
President of Silver Oak Vineyards, David Duncan, was worried that he had lost every single one of his barrels. He thought he had got off the hook when he discovered only three barrels were destroyed. However, they had been top-quality vintage and cost $100,000. Duncan was devastated since he saw hundreds of his family's reserve bottles shattered.
"We actually call it the inner sanctum of the winery," Duncan said. "It's very special, unique reference wines, and we don't sell them. And so to lose them…they are gone forever."
As Napa residents continue to restore their town, many are wondering how they could possibly prepare if another large quake were to occur.
An app has yet to be created to let everyone know before an earthquake happens, but Red Cross' Earthquake App has gotten very close. With its various features, this app is very useful when you need to know what to do before, during, and after an earthquake takes place. This app notifies a person when an earthquake occurs, and lets other know you are safe even if the power is out.
Many continue to suffer from the quake and anyone who can should continue to reach out to Napa Quake victims by sending donations. But police are warning victims of possible scam artists who are taking advantage of the damages of the quake.
Victims of the Napa Quake have relied on the American Red Cross Foundation for support. With all the stress of having to restore the notable wine country, many were happy to find a sense of relief when they walked through the doors of Red Cross.
"People are still expressing concerns about trauma and we hope that when they leave here, they have a better sense of where to go for help," Kathleen Maclay from the American Red Cross said.
Although the earthquake's epicenter was in South Napa, it also hit close to home, as sophomore, Sierra Taylor, explains.
"Yes I did feel the earthquake" Taylor said. "It woke me up in the middle of the night. I felt very disoriented and anxious when it occurred."
A firefighter from the Napa City Fire Department takes a glimpse of the wreckage of buildings, following the 6.0 earthquake in Napa, California on August 24th. Local business struggled to keep their doors open as they cleaned up all the debris from the quake. First responders reacted quickly to the disaster and the American Red Cross Foundation has helped many victims in providing shelter and food.
View Comments (2)