Men's Basketball wins NorCal title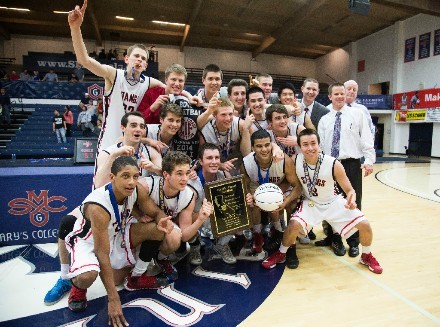 SACRAMENTO – On Saturday, the Men's Varsity Basketball team won the school's first NorCal title with their 59-51 overtime win over Freedom High.
The team breezed through the first couple rounds of the tournament. They won their quarterfinal match up versus Bellarmine and the semifinal game against McClymonds handily. Each game had a margin of victory of at least 20 points.
However, everyone knew that the NorCal game would be a different story. Freedom, the team the Mustangs had already beat twice, was hungry for an upset following their NCS loss. The game was close in the first half, but eventually ended in a comfortable Mustang victory.
This game had a different feel than that NCS game, and from the start you could tell it was going to be a battle. Monte Vista was able to build a 12-7 lead after the first quarter, coming off the heels of great outside shooting. Freedom kept it close after two quarters and the game went to half with a 25-20 Monte Vista advantage.
Freedom came out swinging in the third, riding the scoring of big man Elliot Smith. The Falcons cut the lead to 3 heading into the fourth quarter.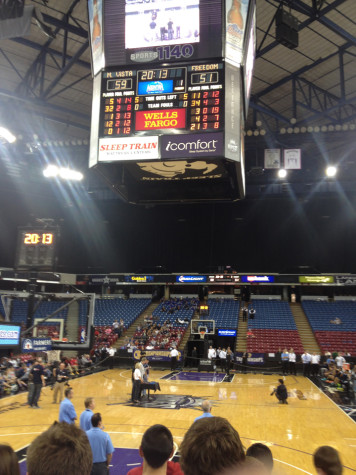 The teams traded baskets back and forth throughout the quarter, with no team being able to solidify a lead. Senior Trevor John was able to nail a three pointer to give the Mustangs a three point lead with little time left. The Mustangs pushed Freedom to the brink, but a three pointer by Elliot Smith at the buzzer tied the game up, sending it into overtime.
The feeling was a little down, especially when Freedom scored the first two points of overtime. But the Mustangs dug deep and ended the game on a seven to nothing run, eventually leading to a 56-51 victory.
The players cleared the bench and celebrated as they had been able to accomplish a feat that that no team in school history had done, be NorCal champs.
Now that was a great win, but their season isn't done. They play for the state championship game this Friday at 8 pm in Sacramento at the Sleep Train Arena. They will play Corona Centennial in what will surely be an entertaining game.
Students are encouraged to come and support our boys. Buses will be taking students and parents for a fee of $10-$15. Interested students should sign up at the flag pole during lunch on Monday.
Congratulations on the accomplishment boys, and best of luck Friday! Go Mustangs!
Leave a Comment