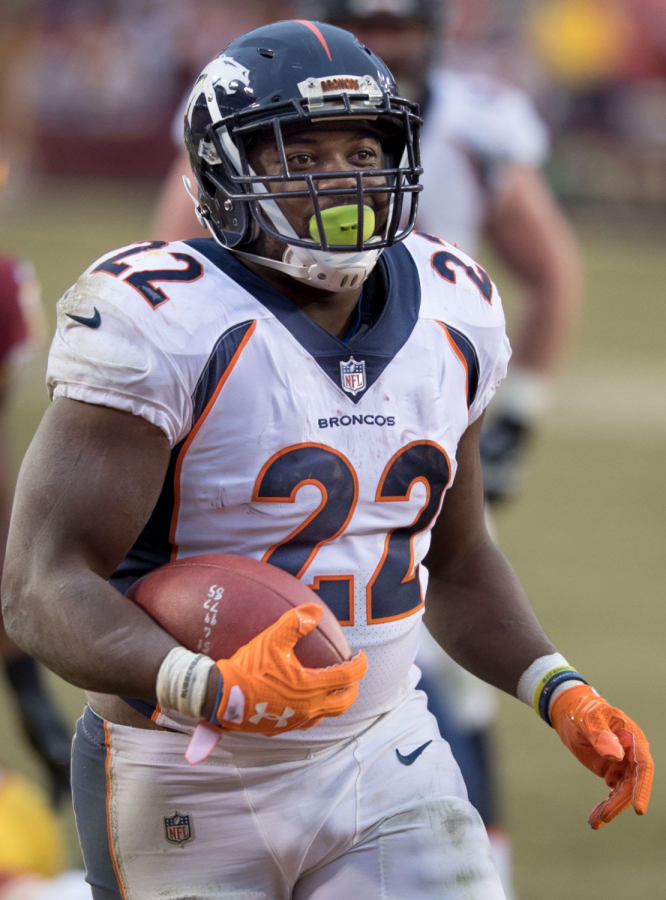 Photo by Keith Allison
This former Super Bowl champion is back to the sport he loves after a short hiatus, and this time he is directing traffic, not weaving through it. 
     Former National Football League (NFL) running back and Super Bowl champion, Cortell Javon "CJ" Anderson was appointed head coach of the Monte Vista Varsity football program on June 15th, 2021. He enters with the opportunity to help Monte Vista bounce-back from the 0-6 season they had last spring.
     Monte Vista was not where he thought his first head coaching job would be. In fact, Anderson didn't even know it was open, but he couldn't pass up the opportunity to coach in the "best football league in the bay area." 
  "The man who was supposed to take this job called me and said he's taking another one," Anderson said. "He asked me if I wanted the job and I said hell yeah."
     Anderson wants to take Monte Vista back to a perennial contender in Northern California like they once were. He is also trying to preach the importance of academics. He doesn't want the kids to make the same mistakes he made.
     Anderson's childhood was one with many struggles. The drug filled streets of inner city Vallejo would be tough on anyone. He has seen many of his friends go down the wrong path and tries to pass this on to his players today. Never meeting his biological father, Anderson and his brother were raised by his mom and his grandmother.
    "I try to tell the kids, not everything in life is big houses in Blackhawk and gated communities," Anderson said.                                      
     Football is nothing new to Anderson, having played four years of varsity football at Jesse M. Bethel high school. By his senior year, he had already played in a Regional Championship game and was named Vallejo Times Player of the year. The award was not baseless, as he ran for four thousand yards rushing and scored over forty touchdowns. Stats aside, he received no offers coming out of high school. 
     "I didn't receive any offers, because of grades. I had plenty of interests, just not the academics," Anderson said. "I think I graduated high school with a 2.3 GPA."
     At Laney Community College, he was named first team Junior College All American. Anderson prioritizing academics was a big change for him.
     "Academics became super important when I got to Laney college," Anderson said. "That's what I tell these kids, academics is a huge part of life and can set you up for success after your playing career."
     Following his two years at Laney, Anderson had the opportunity to attend the University of California, Berkeley (Cal). 
     "I grew up going to a lot of Cal games when I was kid," Anderson said. "Staying home was the best fit and the best choice for me and I knew Cal could put me in the position for me to go to the NFL." 
     Anderson's dedication to academics at Laney carried over to Cal as he excelled in the classroom. In fact, he graduated Cal with a 3.8 GPA. His play on the field was good enough for him to have a chance to get selected in the 2013 NFL draft. Unfortunately, Anderson didn't receive one phone call from any team during the draft, making him an undrafted free agent.
     "When the draft was over, I had phone calls from three teams," Anderson said. "I chose the Broncos, because I thought it would be the best fit for me and it ended up working out." 
     Anderson enjoyed a profitable eight year career, while rushing for just under three thousand five hundred yards and twenty-two touchdowns. In 2014, he had the honor to play in the Pro Bowl. 
     While playing for the Denver Broncos, Anderson had a life changing moment that occurred in Super Bowl 50. The game was played at Levi's Stadium in Santa Clara, with his whole family in attendance. With 3:08 left on the play clock in the 4th quarter, Anderson scored on a two yard touchdown rush that sealed the 24-10 Super Bowl victory for the Broncos. 
     "Winning the championship was the greatest thing I've done besides having my daughter." Anderson said.
     Appearing in games for the Carolina Panthers, Los Angeles Rams, and Detroit Lions; he decided it was for the best to retire from the NFL on September 18, 2020, almost a year after his final game. 
     "I retired because I wanted to spend more time with my daughter," Anderson said. "I completely missed the first 8-9 months of her life, she's a priority."
     The biggest thing Anderson brings to Monte Vista is experience. For example, he was able to show the varsity quarterback (QB) Dylan Devitt texts between himself and hall of fame QB Peyton Manning.      
     "When you can talk to our quarterback about how Peyton Manning did it and he can physically see text messages from him, he'll be able to learn from the best," Anderson said.
     Anderson's experience from his eight year pro career has carried on to the student-athletes and the results are showing. After ending last year 0-6, Monte Vista Varsity football is still undefeated. The proof is in the pudding. 
     Although his goal as a coach is to reach the collegiate level, his time at Monte Vista will be a valuable first step. He will continue to preach how important academics are and will do his absolute best to put Monte Vista back on the map. 
     "I'm excited to get to work with these boys," Anderson said.