Last Updated April 16, 2020
ZERO cases have been reported by MV students or staff.
News & Cancellations
Click Here to View Monte Vista Principal, Dr. Kevin Ahern's, Message to MV (April 13, 2020)
"The public health officers and county superintendents in six Bay Area counties have announced they will extend the suspension of in-class instruction through the remainder of the 2019-2020 school year. This announcement comes as local public health officers continue to monitor and ensure that local orders to shelter in place with limited availability of COVID-19 testing are observed and followed. This decision means that SRVUSD schools will be closed, along with all other schools in the region, through the end of the 2019-2020 school year.  In addition, all special events, field trips and school-related activities including Graduation, Senior Balls, 8th Grade Promotions and other end-of-year activities have been canceled. " – Statement from the SRVUSD on April 7, 2020
"Today, seven Bay Area county health officers, in collaboration with their six-county superintendents of schools announced a unified, regional decision to extend school closures through May 1, 2020, to slow the spread of COVID-19 to the maximum extent possible.  This decision means that SRVUSD schools will be closed, along with all other schools in the region, until May 1st. The SRVUSD still plans to observe our previously scheduled Spring Break from April 6 through April 10th. No remote learning will take place during Spring Break." – Statement from the SRVUSD on March 25, 2020
Read the full statement here.
KRON-4 on the Bay Area school closures here.
Sports & Events
All sporting events will be suspended until further notice. There will be no practice, no meetings, no open gyms/fields or activities of any kind. There will be no exceptions. CIF appreciates the patience and understanding as they navigate this unprecedented situation.
CIF canceled both Boy's & Girl's State Basketball Championship
Principal Ahern is completely committed to having as many Senior Activities as possible giving the CDC and CCC of Ed guidelines.
"It is our greatest hope that graduation and Grad Nite will go on as planned." (Jodi McFarland)
"If school is not reopened this school year then we will need to plan contingencies like distributing yearbooks, summer senior events, diplomas, but it is too early to plan for those." (Jodi McFarland)
Virtual Learning


Monte Vista has moved forward with online learning for the rest of March and until spring break. All assignments are labeled as optional per SRVUSD.
Find Monte Vista's remote learning plan and resources here.
All assignments allocated through April 3, 2020, are an optional and comprehensive review of previous lessons given to students throughout the year. SRVUSD is working in compliance with the state's guidelines in regards to the state of emergency established by Governor Gavin Newsom. 
District Communications Director Christopher George has sent out correspondence regarding SRVUSD's plan for Virtual Learning. 
Letter from March 17, 2020
Letter from March 23, 2020
Assistant Superintendent of Educational Services Christine Huajardo sent out a letter detailing the logistics of Remote Learning to parents and other members of the community on March 19, 2020.
See full letter here.
Monte Vista PTSA Remote Learning Plan Q&A
Click Here
*** Internet access for Remote Learning
Xfinity WiFi Free For Everyone
AT&T Covid-19 Commitment
2 months free Wifi from Comcast
3 months free Internet and Phone from Sonic
AP Testing
Click here for news from the College Board. 
Click here for the Monte Vista AP information page. There will be online testing this year but the testing dates will not be revealed until April 3.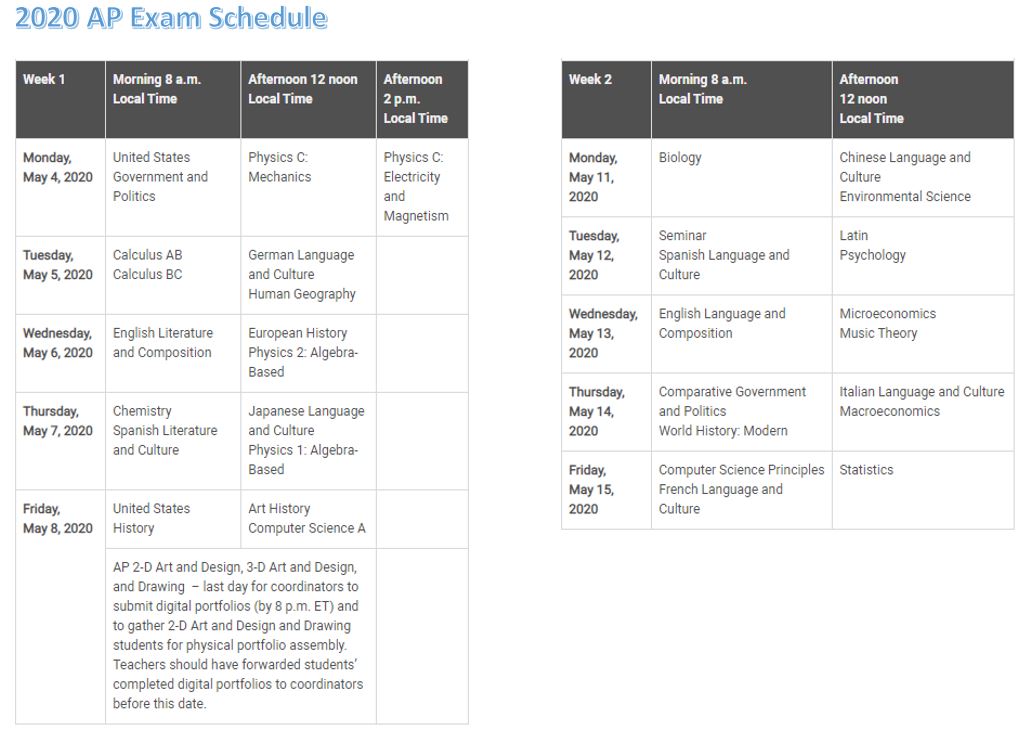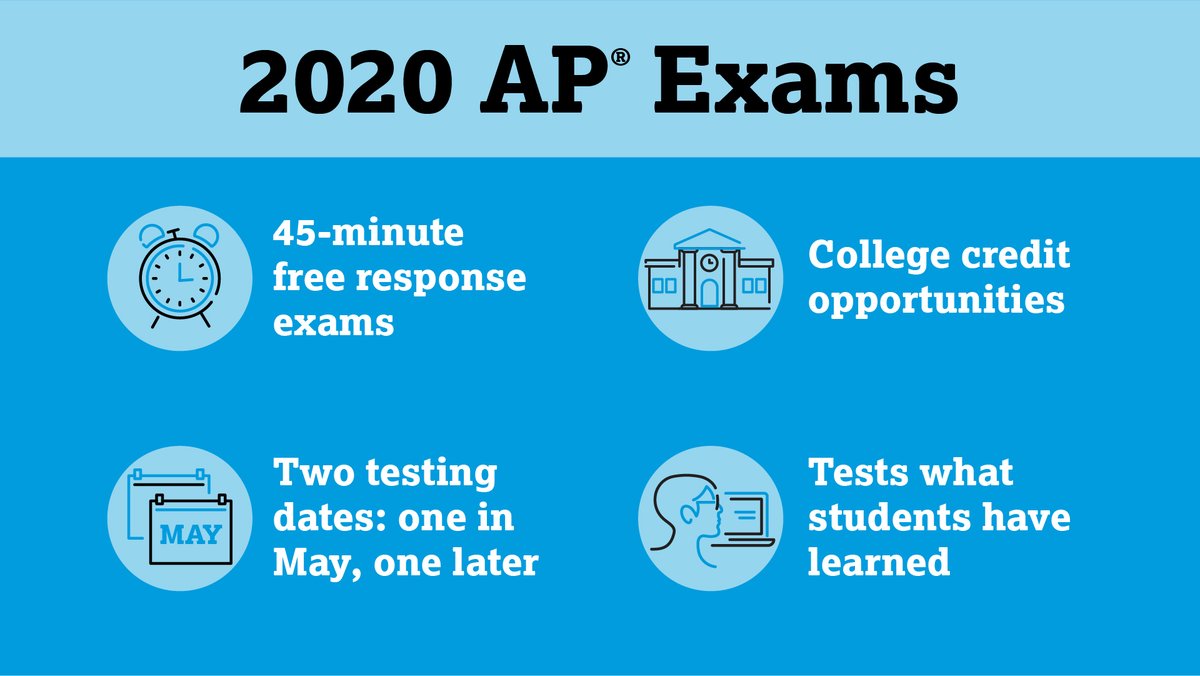 Local to Worldwide News
Contra Costa County: Tracking coronavirus in Contra Costa County (Contra Costa Health Services)
March 20: First death from coronavirus in county
March 23: County announces three donation sites for medical supplies
March 23: Contra Costa introduces drive-thru testing
Ongoing: Danville Fighting COVID organization creates efforts to support donations
California: Tracking coronavirus in California (San Francisco Chronicle)
March 11: State proclaims COVID-19 emergency declaration
March 13: Governor Newsom signs executive order ensuring funding for schools in physical closure
March 16: California bans large gatherings
March 16: California restaurants shift to takeout-only orders
March 18: State parks temporarily close all campgrounds
March 18: Governor authorizes $150 million to protect homeless from COVID-19
March 18: Suspension of standardized testing for students
March 19: Governor Newsom declares mandatory quarantine, non-essential business closures
March 20: Expansion of vote-by-mail options for presidential election
March 20: Governor deploys National Guard to distribute food, protect most vulnerable
March 21: Executive order signed to expand health care clinics, flexible delivery systems
March 22: California secures presidential support to aide state
March 24: Patients younger than 50 make up half of California's confirmed cases
March 24: Teenager dies from coronavirus in L.A. County
United States: Tracking coronavirus in the U.S. (New York Times)
March 13: Congress passes bill to help those affected
March 13: President Trump declares national emergency
March 13: Mobilization of full federal resources
March 15: Federal Reserve cuts rates to zero, launches $700 billion easing program
March 18: Executive order on prioritizing and allocating medical resources
March 18: Travelers prohibited from entry to United States
March 18: President Trump, Congress agree to support businesses, families and testing
March 20: Treasury moves Tax Day to July 15, Department of Education waives all federal interest on student loans for 60 days
March 23: Vice President partners with governors to prepare, mitigate and respond
March 23: Fed announces unlimited bond purchases
March 24: Congress, White House close in on $2 trillion stimulus deal
April 16: Trump says he'll release guidelines on reopening economy
Worldwide: Tracking coronavirus in the world (Johns Hopkins University)
March 16: Airlines cut international flights
March 17: Coronavirus slowly approaches toward African countries
March 19: Search for vaccine become global competition
March 19: Russia expands surveillance apparatus amid health crisis
March 22: Germany chancellor in isolation, country bans groups of more than two
March 23: Canadian Prime Minister Trudeau in isolation
March 23: Italy's doctors face tough decisions with shortage of workers
March 23: How South Korea flattened the curve
March 24: Britain under virtual lockdown
March 24: India imposes 21-day lockdown
March 24: Number of health workers decline in Europe
March 24: Mexico City's calm and unworried state, usual living approach
March 24: China to ease coronavirus lockdown soon
April 15: Sources believe coronavirus outbreak originated in Wuhan lab 
Cancellations
Coachella postponed to October 2020
Scripps National Spelling Bee suspended
NBA season suspended after player tests positive
NHL pauses season
NCAA cancels men's and women's basketball tournaments and all spring sports
La Liga (Spanish Soccer) suspended indefinitely
Formula 1 Summer Opening race shuts down and break is extended into March & April
Music and film conference (South by Southwest) cancelled
Met Gala 2020 postponed
Tribeca film festival 2020 postponed 
National Cherry Blossom festival shuts down in Washington
2020 Olympics in Tokyo pushed to 2021
Tokyo Marathon restricted to elite runners
St. Patrick's Day parade in Ireland shut down
MV Teachers and Staff