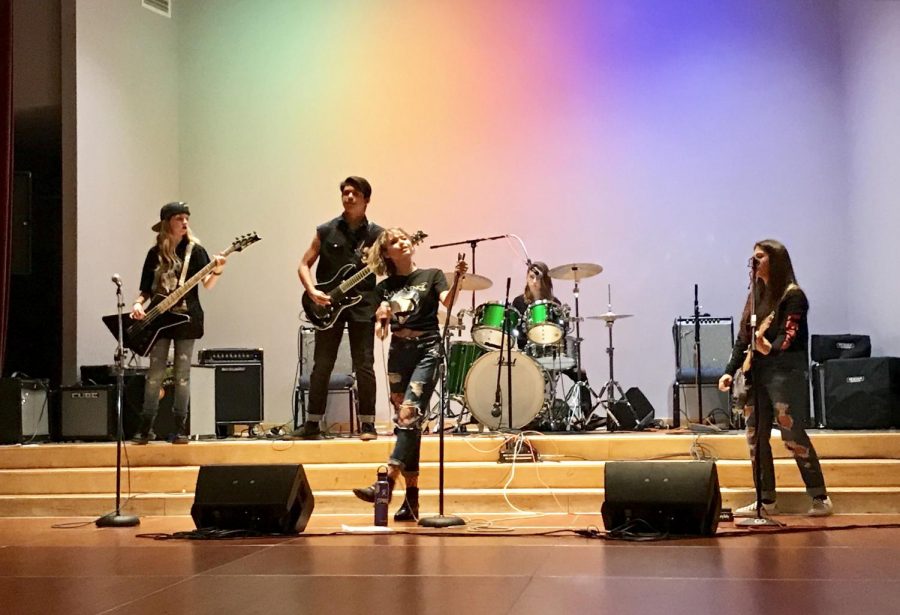 Claire Chu
     Fifteen youth rock bands performed at the San Ramon Community Center on Jan. 26 to promote mental wellness and offer resources to teens.
    As teenage stress heightens in the Bay Area and across the nation, communities are searching for ways to prevent its lasting effects. A Brighter Day, a Lafayette-based charity, collaborated with the San Ramon community to host a teen rock band showcase, promoting mental wellness.
    "The goal of A Brighter Day is to provide stress and depression resources to teens," said Elliot Kallen, the president of A Brighter Day. "This was our tenth event and we are planning another five or six this year."
    In its fourth year, the charity has touched 1,500 teenagers and 500 adults. By using the local teenage band showcase format, exposure to the resources will have the greatest impact. Attendees receive a backpack with emergency service locations, support hotlines, and information about the Contra Costa Crisis Center.
    "Music and concerts are the vehicles to create awareness and hand out the backpacks filled with resources on stress and depression," Kallen said.
    Danville Youth Council president Ashley Hsieh and San Ramon Teen Council chair Shruti Adusmulli emceed the event. They began by commemorating Kallen's son, Jake, who committed suicide in 2015, prompting his father to found A Brighter Day.
    "The idea came to me while flying home with my son's body from suicide," Kallen said. "His suicide note read to us: 'Mom and Dad, I have been thinking this way for a long time. I would never have asked for your help. I would never have told you or taken your help.' We knew we had to take action."
    Jake graduated from Acalanes High School in 2013. Two years later – a sophomore, 19, at the University of Montana – he took his life. Kallen realized that many teenagers experience similar situations, so he decided to take one of Jake's passions – music – to help bring light to a seemingly hopeless circumstance.
    "It was wonderful to see an audience filled with teenagers and parents who can feel lively when their minds may be in a rough spot," Hsieh said. "Mental health is often a difficult topic to discuss and accommodate, but the charity and showcases are definitely making steps in the right direction."
    Throughout the night, bands rocked to their music while judges Stevie "Keys" Roseman, Joy Saleh, and Jack King evaluated the performances. The winning band, Ruakh, received a free studio concert for 60 attendees along with an MP3 and MP4.
    "That night could be only described as a miracle," said Joshua Guadarrama, singer and pianist for Ruakh. "We made friends with bands and connections that will hopefully further ourselves as a band and as people. I personally learned that we can do so much better than we think we can. The fact that Elliot goes out of his way to share this message by giving these opportunities to us is incredible."
    Ultimately, the event was to address teenage mental health and ensure that communities can work together to treat it.
    "We understand that life can be very stressful for teens, so we want them to know that they are not alone and that we are here to help in any way," Kallen said.