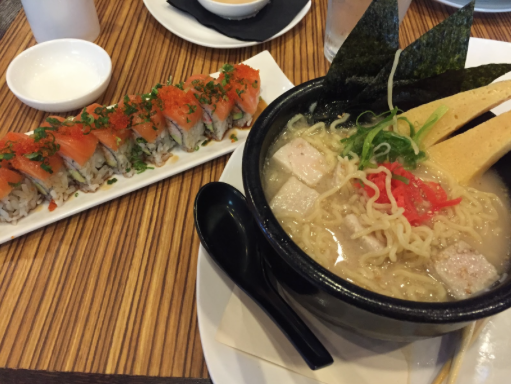 Not Akira Bistro, Sushi Bar Hana, Yuki of Tokyo, or Sushi Yokohama could compare to the cram packed flavor of Blue Ginkgo's sushi rolls.
      When I first sat down, I was discouraged by the price of my favorite Japanese foods, as the Golden Gate cost $17 and the Ramen, $13. However, it didn't take long into my time analyzing the menu before a server was upon us, serving a delicious miso soup that alleviated the above average wait for the noodles and rolls. When the waiter placed the black bowl filled to the brim with a steaming broth and abundant noodles and pork belly, I instantly became satisfied with just the look of the food. In addition to the steaming broth, noodles, and pork, the colorful combination of tamago, spinach, and nori lightened up the dish and added an aesthetically pleasing factor.
      It was when I took my first bite that my satisfaction turned into pure enjoyment, as the pork belly was the softest pork I've ever had, with a rich, umami flavor that complimented the mound of noodles it accompanied. After I shoveled down the ramen, I was instantly met with the server carrying a long plate filled with sushi end to end, with a side of ginger and wasabi in the corner. For the price, the quantity of sushi might be a problem for some, but I felt that the thick rolls with flavor-bursting taste more than compensated for the price. When the plates were slid onto the table, I looked upon the eight pieces filled with crab, eel, avocado, all rolled up in seaweed and rice and topped off with thick slices of salmon and tobiko, with anticipation of the amazing unique tastes I was about to relish.
       While there are many options on the menu, from a vast variety of rolls that even include vegetarian options, nigiri, sashimi, noodles, and meats, the rolls and noodles that first stood out to me and I ended up ordering did not disappoint.
      In addition, the average wait time was greatly reduced due to the free miso soup, and the service was adequate with no complaints. The thing that makes Blue Gingko special, is simply put, it has the best Japanese food. The thing that might discourage some is the high price for rolls that you can get somewhere else for less than $10. I very much enjoyed my experiences at Blue Gingko and recommend it for those seeking high quality Japanese food.