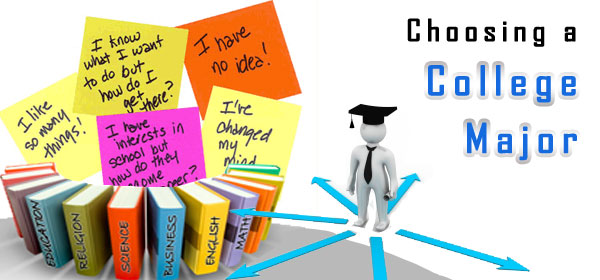 Seventeen. Sure, decide the future of your career. But wait, you won't be able to handle a rental car until you are at least twenty-five.
High school students generally apply for college in the Fall of their senior year. Most students are not legally adults yet, but are forced to make the decision of what they want to do for the rest of their lives.
In reality, deciding majors starts much earlier than seventeen. That is just the finish line of many years of personality and career tests. Some as young as thirteen are already being tested. Aren't they still just children?
Many times, when students click the box for a major their decision is based off of which major will help them get it in to that school the easiest, what their parents majored in, or which will ultimately allow them to make the most money. Statistics show that these strategies don't fend so well.
According to the National Center for Education Statistics, about eighty percent of students change their major at least three times over their time in college. Specific to teachers at Monte Vista, of 45 people, 66.7 percent changed their major one or more times while in college. This constant changing of majors and classes increases the cost of schooling, because in most cases it increases the time needed to graduated.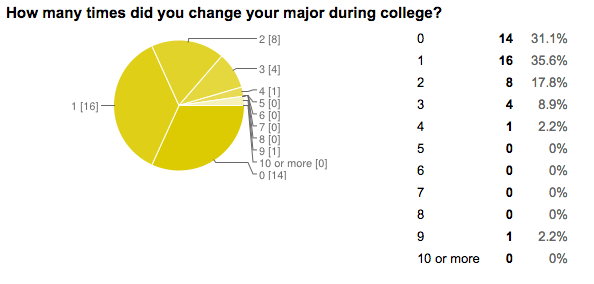 English teacher, Jenyth Utchen, attended Stanford University on a volleyball scholarship and she herself changed her major nine times prior to graduating.
"I chose to go to Stanford because it had the top acceptance rate for medical schools for undergraduates, and my mother had a terminal illness and I was determined to cure her before she died, so I went to Stanford with a huge sense of idealism," Utchen said.
After her first year she decided to change from a Chemistry major to Human Biology, then later Psychology then to Neuro-Sciences. After working at the Stanford Hospital she realized that the medical field was not for her. Ultimately she ended up with a creative writing major, something that she never expected.
"I never thought of majoring in it [creative writing] because I knew how to do that," Utchen said. "I thought I should major in something that I didn't know anything about. That's what I thought college was supposed to be."
She also reflected of the idea of being a teacher.
"It wasn't cool," Utchen said. "You don't make any money as a teacher. Why would anyone want to do that? I was going to save the world, cure my mother."

Ultimately she realized that growing up she always enjoyed teaching others, individually or through 4-H programs. It took her some time to come to this realization, but by being open to change she was able to enter a career of teaching which is passionate about.
She was able to graduate in four years because at a private liberal arts school like Stanford each class you take counts towards graduating, unlike at a CSU or UC where each time you change majors, semesters are added onto your total time.
Utchen was also a professional college admissions counselor in addition to teaching. She had a private practice for nine years and would spend fifty hours with each kid to find what path was just right for them.
With much experience of her own, and others, Utchen strongly recommends to keep an open mind while choosing majors, and careers.
"It's different doing something if you're good at it versus doing something because you're passionate about it," Utchen said. "It's important to know that while going into college. Just because you have A's in a subject that may not be an indicator of interest or success."
In a recent poll given to the seniors here at Monte Vista, out of 135 students, over thirty percent were not confident in which major they declared in while applying to college. This is an alarming number of students who will be leaving in the fall and starting a major in something that they are not sure is right for them.
But how can anyone blame these students? Human brains don't fully develop until twenty five years of age: several years after you have applied for college. There's a simple answer to this issue of major indecisiveness. Many students just aren't ready.
Returning to the rental car, the United States has some odd standards of ages when young adults should be given certain privileges. One example is you can't legally get married without consent until you are eighteen, and even then that is considered too young. The decision of getting married and choosing a major are very similar in that they are both long term commitments. But, society doesn't think twice about letting teens decide their career, yet young marriages are looked down upon.
Think, if you saw a high schooler propose to someone, would your mind not quickly judge the situation?You would think that this is a bad idea and it won't end well. Why do we realize that marriage is a decision far too young for high schoolers, but their career is not?
I don't conclude that all high schoolers don't know what they want to do. Some are lucky enough to be certain of what their future is going to be.
Senior Adele Hohertz-Serpan has known what she has wanted to do since the eighth grade. In the fall she will be attending the Honors College at the University of Vermont, double majoring in Global Studies and Pre-Med, with a minor in Business.
With personal experiences of being bullied, she has learned that as a career she justs wants to help other people. Specifically she wants to work in humanitarian aid, with refugees and social services. Serpan also explains how exposure has helped her and can help others in deciding their major and career.
"Volunteer work definitely helps," Serpan said. "Just talking to people and knowing what your parents do and knowing what your friend's parents do helps a lot. Also if you just try something, like a job like waitressing, some people can know that they like [a certain] aspect of it, like working with money or talking to people."

Chemistry teacher, Nancy Chemaly, who grew up in Europe explains how there were still obstacles there in terms of majors, but how they differed than issues today in the United States.
"The fact that I did not grow up in the US kind of backfired on me because we had limited options and opportunities. We were less fortunate than now because we did not have internet at the time, we did not know what the options were outside, so in a way because we had less choices we were not lost. But this does not mean that it was a good thing."
Chemaly explains how at one point she reconsidered her career, and thought of changing to something that she had previously never heard about.
"Now a days you have way more tools, but you should use them wisely in order to narrow down your choices," Chemaly said.
Even though the issues of majors is still very prevalent in the United States, colleges are recognizing this issue and some have even begun to create a major which allows you to get a taste for several different majors and then later declare in what you are interested in.
    Hopefully in the years to come, our standards can switch and realize that like mariage, drinking, smoking and more deciding a careers is also a decision too young for just a teen.