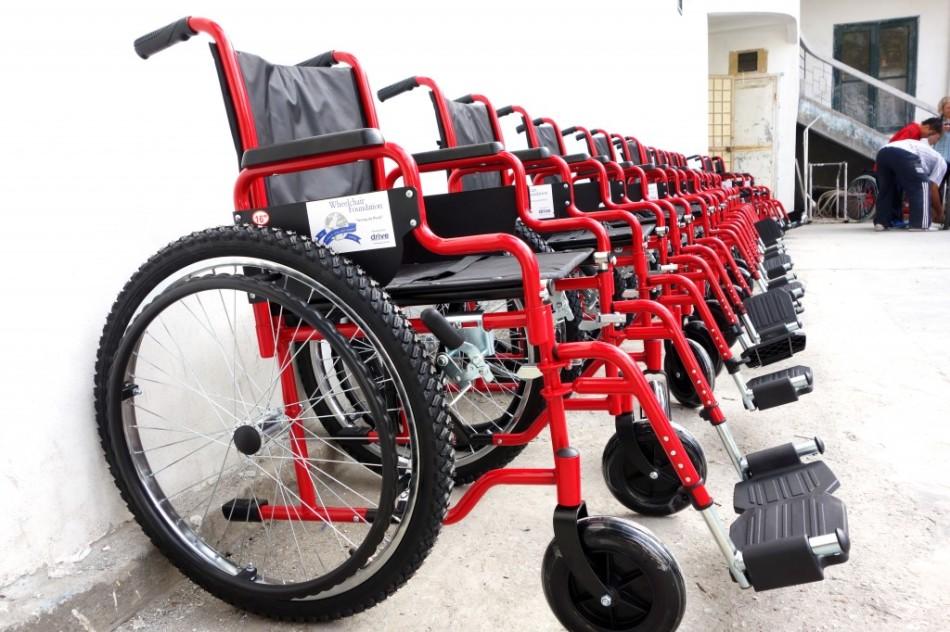 Monte Vista recently teamed up with the Wheelchair Foundation to raise money for  physically disabled people who need a wheelchair and can't afford one.
The Wheelchair Foundation is a nonprofit organization founded in 2000 by Kenneth Behring. The foundation uses monetary donations to purchase wheelchairs and deliver them to the 109 million disabled people worldwide who do not have the financial means to buy one. Currently, $150 will buy a new wheelchair and cover the cost of its delivery.
"My father set a goal of at least 1,000,000 wheelchairs in five years," President of the Wheelchair Foundation David Behring said. "We have delivered 950,000 in 14 years and plan to continue the program into the future."
Another goal of the organization is to continue to raise awareness about people with physical disabilities and the importance of giving them help. On April 29th, there will be a wheelchair basketball game held at San Ramon High School, and on May 6th, one will be held at Monte Vista to further promote wheelchair awareness.
The Wheelchair Foundation originally worked solely with schools in the Pleasanton school district, but due to the great amount of success the program had, this year it expanded to fifty schools in the SRVUSD district, Pleasanton, Oakland, and Hayward.
It is in large part, thanks to Don Routh and his son Josh Routh that the Wheelchair Foundation has gotten involved with so many schools. When Josh was one, he was diagnosed with cerebral palsy and has been in a wheelchair ever since. This inspired Don to take an unfortunate event and create something positive with it.
"Don thought it was very important for students to learn awareness about people with disabilities," Behring said. "Physically disabled people don't get the respect they deserve. If people are different from you, you should respect the differences in those people."
Don and his son Josh have taken it upon themselves to bring attention to people with disabilities and supply wheelchairs to those in need who live in developing countries. Josh has traveled with his father to fifteen countries in South America to personally deliver wheelchairs, and has served as an inspiration to many.
When the Wheelchair Foundation reached out to Monte Vista, they gave a presentation to our faculty and had a volunteer speak to a few club leaders. The Interact and CSF clubs were approached by the administration and were asked to organize wheelchair fundraisers and to increase general awareness about the program.
"We started with advisory classes where we showed a video and organized discussions about disabilities and wheelchair etiquette," Interact officer senior Taylor Lee said. "We also spoke at the rally and worked with the class presidents to demonstrate the difficulties of using a wheelchair."
Wheelchair awareness was further promoted through the opportunity offered to students to use one of the ten wheelchairs loaned to Monte Vista by the Wheelchair Foundation over the duration of a week.
"Being in a wheelchair made me realize how truly difficult it is to be in one," participant senior Marina Velo said. "My arms were exhausted by the end of my time in the wheelchair."
This activity not only demonstrated to students how physically taxing it is to be disabled, but it also revealed the psychological effects it can have.
"People no longer noticed me, they only noticed the chair I was confined to," Velo said. "It was really belittling. Now when I see someone in a wheelchair I'll know not to simply pity them because they are in a chair, rather I'll try to get to know the person first before I make a judgement."
Monte Vista did an equally outstanding job fundraising as it did promoting awareness. The Interact club held a fundraiser where students could donate money during their advisory classes with a goal to raise $150 per class, and the CSF club offered an opportunity to give money to the Wheelchair Foundation as well.
"I organized the project using the schoolloop news bulletin, and while CSF members could donate for activity points, the fundraiser was open to the entire school," CSF Vice President senior Marc Taniguchi said. "The fundraiser was organized to help raise funds, and all the money raised by CSF was given directly to the Wheelchair project."
The two clubs worked together to raise a total of $4,862.51 through their fundraisers which buys 32 wheelchairs. Thanks to the proactive mentalities of these clubs, Monte Vista was able to make a positive impact on the world.
Interact President senior Justin Tsung said, "We'll also raise money from our wheelchair basketball game in May, but for now this is a great number."
One of the biggest donors at Monte Vista was the Physics Engineering Technology (PET) class, taught by Mr. Johnson and Mr. Huntsman. Through the Science Technology Engineering and Math (STEM) project, the class built guitars, starting only with a rough kit. The students who created these guitars had the option to buy them if they wished, but the guitars that weren't bought were left homeless.
"When the Wheelchair Foundation came up, it was a good opportunity to accomplish two things at once," Mr. Huntsman said. "The wheelchair foundation looked like a good cause to raise money for some really needy kids throughout the world, and find the guitars a home at the same time."
Five guitars were sold in total, and they were $190 a piece. This money came to $950 which was all donated to the Wheelchair Foundation. It is thanks to a couple of Monte Vista teachers that these guitars were purchased; Mr. Kinley, Ms. Wayland, Ms. Velo, and Mrs. Poole.
Recently a contest was created by the Behring family called the Leadership and Philanthropy Award which recognizes teachers and students who have shown a large effort in raising money and awareness for the Wheelchair Foundation.
"School is an important place to both learn about and practice leadership skills and my father wanted to reward the students that the schools felt had demonstrated the highest level of effectiveness in fundraising and raising overall awareness and respect of people with physical disabilities," Behring said.
Based on the amount of money donated, one Elementary School, Middle School, and High School will win the contest and receive a $2,000 award and the opportunity for one student and one teacher from each school to participate in the wheelchair distribution. This year, the distributions for 2014 will be in Honduras and Costa Rica during June and July.
Overall, Monte Vista can be proud of its donations to the Wheelchair Foundation and the lives it changed for the better through this program.
Here are some words of thanks from the club leaders who made all of this possible:
"Thank you to everybody who donated for giving people in need the gift of mobility." – Tsung
"We appreciate all the support MV has given to this project and I know the kids getting the wheelchairs will appreciate it even more." – Lee
"CSF would like to give out a huge thank you for all those who donated to this project, we couldn't have done it without you!" – Taniguchi